What did you shoot today?
November 25, 2019 17:02:50
Very nice array. 
I actually spent my afternoon, (punctuated by laundry,) shooting my $130 TF5 spring piston IZH61 clone in the basement. I'm learning to like this little gun quite a bit. With the addition of a Hungarian polymer 10M rear sight and a tapered post hooded front sight, I can pretty much single-hole in the basement at 7.5 yds.  I've been able to adjust the trigger to near match quality, but honestly, it took some run-in time to get it to this point.
If you missed out on the IZH 60/61, the TF5 is a decent substitute.  Not the same, but not THAT far off.  Mine did need a fair amount of run-in before it started to shine, so don't expect match-grade accuracy out of the box.  But give it a good break-in, and good sights, and the little cheapy will reward.  FWIW, the trigger can be adjusted 6 ways to Sunday, and once broken in, can be made near match quality.  Not as nice as my steel-receiver IZH61, but not a distant second.
September 21, 2020 23:19:42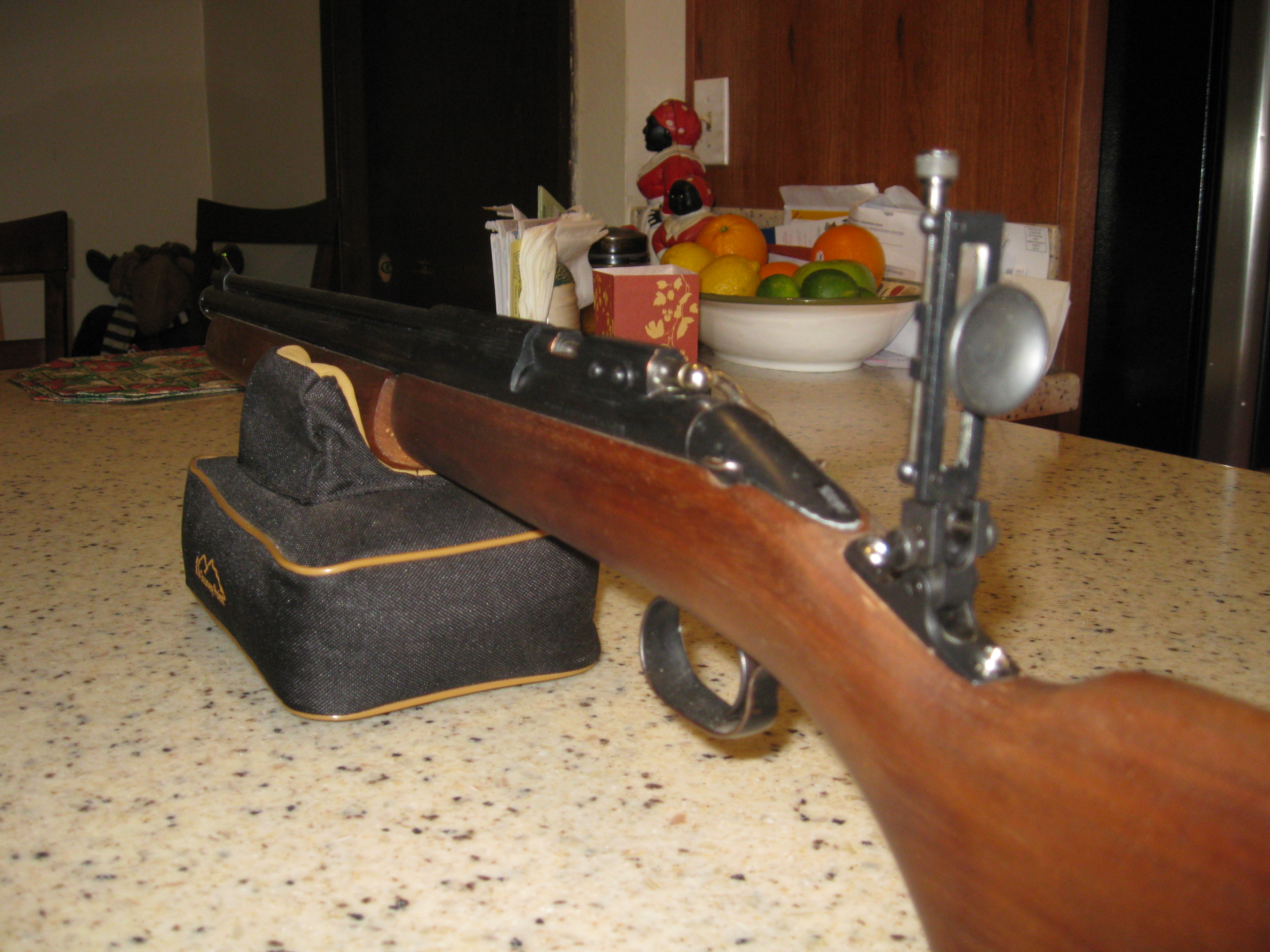 September 22, 2020 14:36:22
Of all my airguns (some 18 ) this is my favorite that I shoot often. 1975 Sheridan that I paid $50 for and later added the ladder sight that cost me $85.
Below is a target that I set up at 55 yards to simulate the Quigley bucket shot. Fun stuff with my 78 year old eyes...
There was a 5 mph crosswind the day I shot is target. The fourth shot hit the bucket.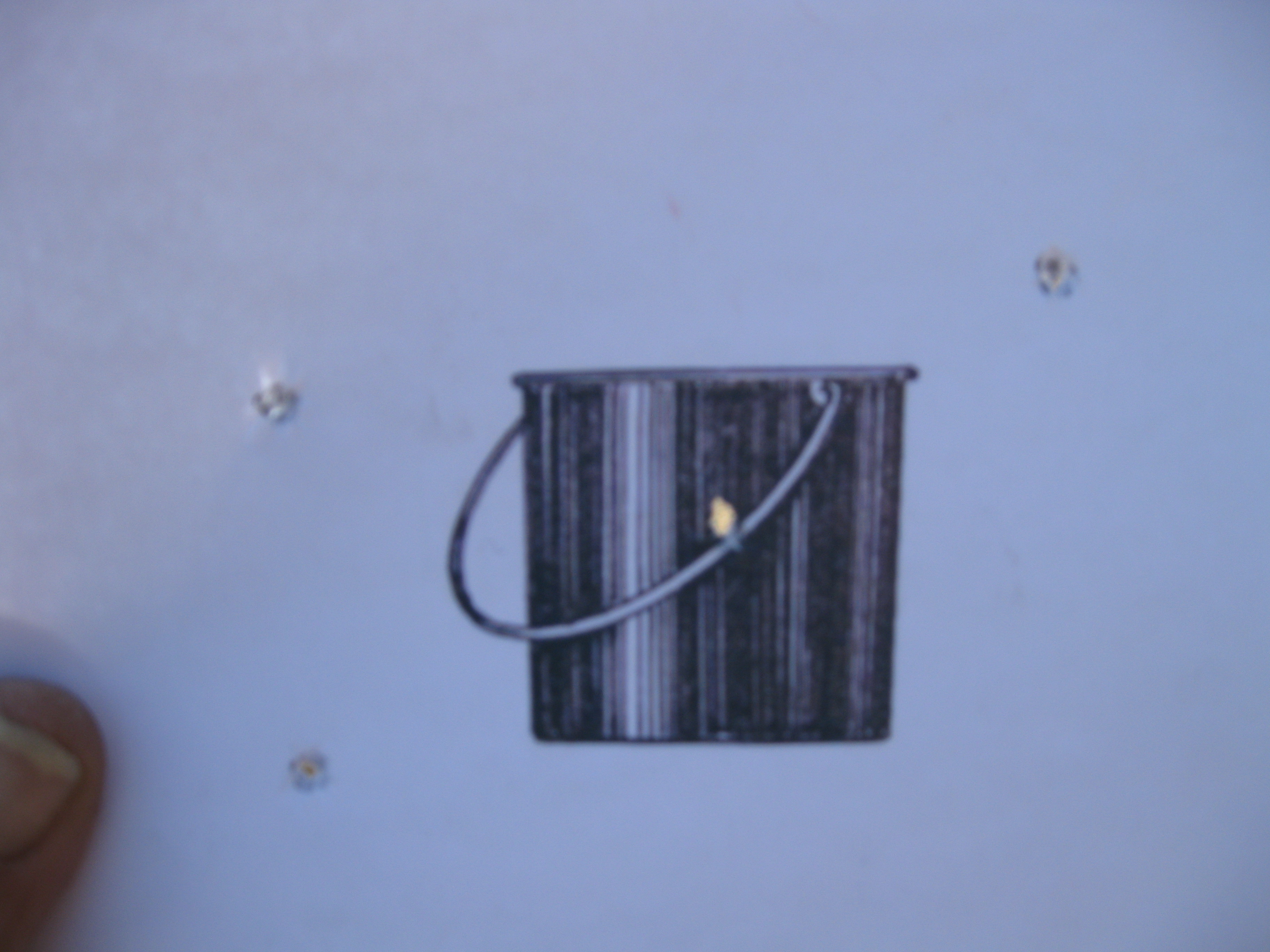 September 22, 2020 16:38:55
This odd conglomeration.
It's an FWB 300S "Mini" action, in a 300SL stock (a limited edition model with a longer fore end). I found the stock online in sorta beater shape, and Doug Phillips did an awesome job re-finishing it for me. The scope is a lowly Tasco "Bantam" 2.5 x 20 shotgun scope, with cheapie Bushnell mounts (which work really well BTW).
I normally shoot match rifles with their OEM diopter sights, but this was a fun exercise for my rapidly aging eyeballs.
September 22, 2020 23:18:59
@mdriskill so jealous. It's a curse and blessing I didn't get hard into airguns back when I had a good career lol
I took my CFR out today for the first time since I essentially pillar bedded/ glass bedded at front and rear and floated the rest of the tube. Although after the second or third shot it occurred to me I didn't replace the cocking arm shoe that the dog chewed up so it was grinding into my tube and now I'm afraid to look at it. Not happy about that. The shots I did get off were absolutely horrible for what I was expecting. I'm hoping to head out tomorrow but doubt it. 
So I ended up shooting a gamo Varmint that has a new scope, got it sighted in with the quickness. Then shot a hunter elite that's tuned up a bit just to make myself feel better. For some reason the wife isn't receptive to my advice on shooting. I can shoot half inch at 20 pretty easy with her gun but for some reason she's all over the paper. She is left eye dominant so it makes it more confusing for me to guide her. 
September 22, 2020 23:41:11
Remington 870 28 ga #6's mod choke. Got a 16 and a 17 at the 16 yd trap line. like to say I did not go hungry today.
tim
September 23, 2020 06:42:59
A Daisy 777 and Gamo IGT P900 pistol. Picked up this second Gamo P900 IGT and it's a scatter pistol compared to my first one that literally stacks pellets at 15 yards. It's factory rated at 0.20" c-to-c at 10 yards. Well this one is far from it even at 7 yards of isn't even minute of pop can and tried so many pellets already somethings definitely up. Noticed it seemed to be shooting slow compared to the Daisy 777 and flipped the breech seal around and power improved but the accuracy still sucks. It's past the return time so it's probably in need of a warranty exchange. What a waste of time and lots of pellets today! My first one is ridiculously accurate. Bought another just to keep in the car for those times of uncontrollable urges to plink. Since its all mostly plastic and looks like a toy gun it wouldn't be red flagged if I ever ran into a traffic stop and got searched. It really looks and feel like a child's toy gun.
October 16, 2020 09:06:12
I have 4 FWB rifles, three 300S's and a 300. The latter is the homeliest of the bunch - an early example in a plain beech stock - but is the best shooter all-round. It's like it knows where the center of the target is, better than I do, LOL...
The 300 was made about 1969 - 72, and was really the gun that made FWB's reputation, utterly dominating international competition in those days. The 300S was great too, but within a few years had to deal with improved competition from the Anschutz 250, Diana 75, Walther LGR, etc.
October 16, 2020 22:16:56
Just a plain old R9 and some supermags.
2 squirrels fighting over who got to molest the Jaboticaba before they were ripe.
Each ended up as bait in the livetraps.
I'll have a post tomorrow too 😉
October 16, 2020 22:52:09
Enjoyed plinking a little bit with my newest addition, AEA HP Sparrow bolt action .22 pistol. Been an interesting gun so far, first time having an unregulated PCP so had to fiddle a little bit to find the fill range it liked. Have it pictured against an Artemis pp700 there for size comparison. Looking forward to trying the semi-auto upgrade kit for it later on when funds permit.