My Crosman F4 QuietFire (Exclusive WalMart Version) ... WalMart: No ReFund/Return Policy Concerning Crosman Airguns --- Crosman: No Refund for WalMart Purchased Airguns
Topic starter
March 25, 2021 10:54:29
I was in WalMart the other day, on a cat food mission - at least that was my pretense for going.
Anyway, ya'll know "the rest of the story" ... strategically divert to the sporting goods section to view the airguns, pellets, targets, etc.
That's when, I spied a Crosman F4 outfitted with a moderator.
As things would have-it, I'd just been thinking about quieting my Gauntlet.
Since I acquired the Gauntlet, I've had the nagging perception the rifle was-not inconspicuous-enough for-my-liking in the backyard.
Ya see, the Gauntlet is my outside air rifle - sitting outdoors on our patio - always at the ready.
As such, the Gauntlet lives an unpampered existence quite unlike my German airguns.
I was thinking, why not an inexpensive synthetic-stocked springer for constant standby-duty out-of-doors?
Well, here comes the F4 QuietFire at WalMart - what a timely coincidence. LOL
And at a cost of-only $83.00 for the rifle!!!
Moreover in the corner-of-my-eye, was a CenterPoint 3-12x44 scope with ballistic MOA reticle on-an-adjacent-shelf.
Who ... in their right-air-gun-mind ... could resist such temptations?!?!?

After paying for the rifle at the Sporting Goods department.
I couldn't wait to-get-home to send a pellet down-range just-to-hear the report.
That was the entire point of this purchase, to gage the quietness of a moderated gas-ram.

Crosman F4 QuietFire (WalMart Version) with CenterPoint 4-12x44 on Diana Zero-Recoil Mount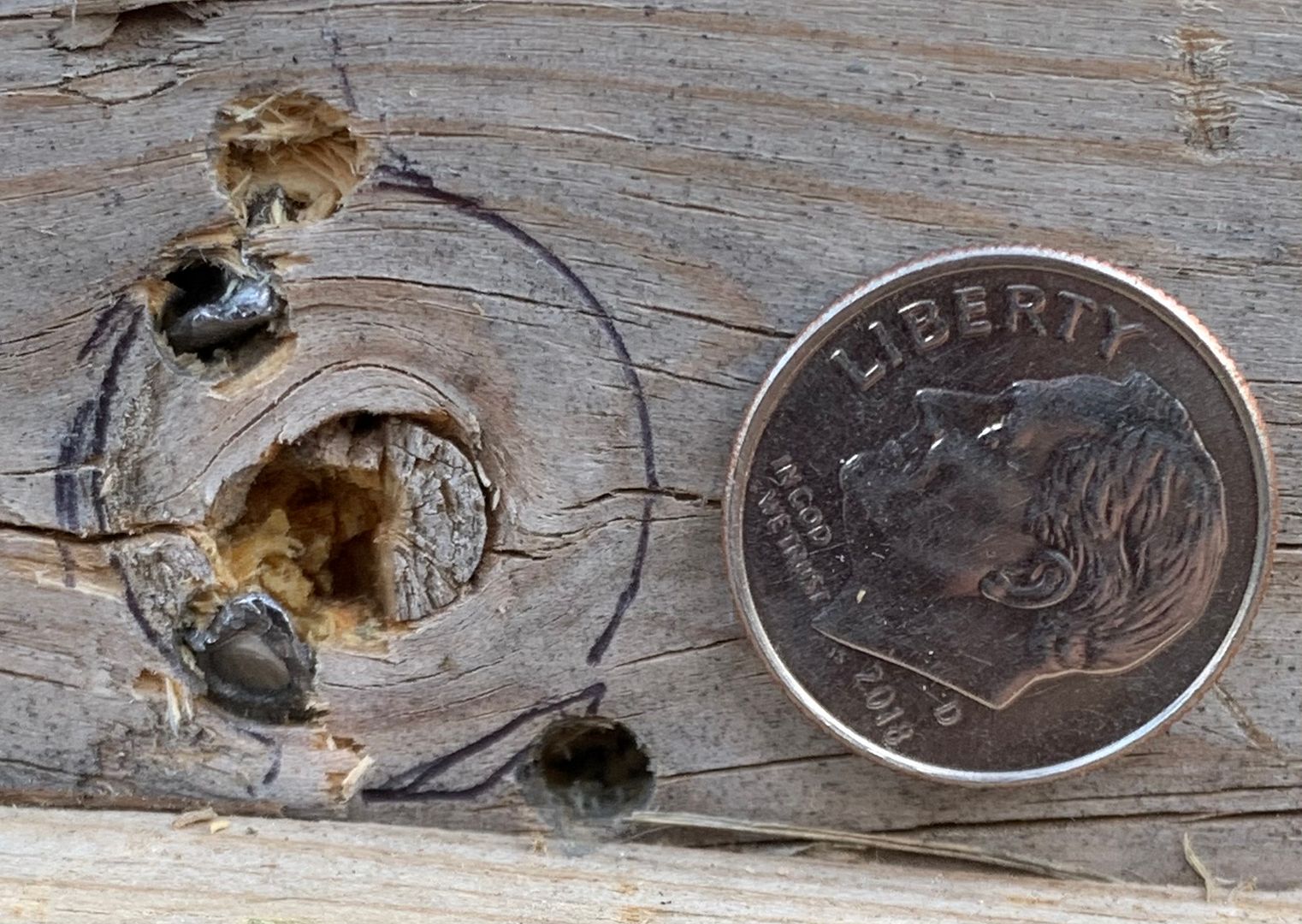 Standing Position with Offhand Lightly Braced
Crosman Premier Hollowpoint, 7.9g
5-Shots at 20-Yards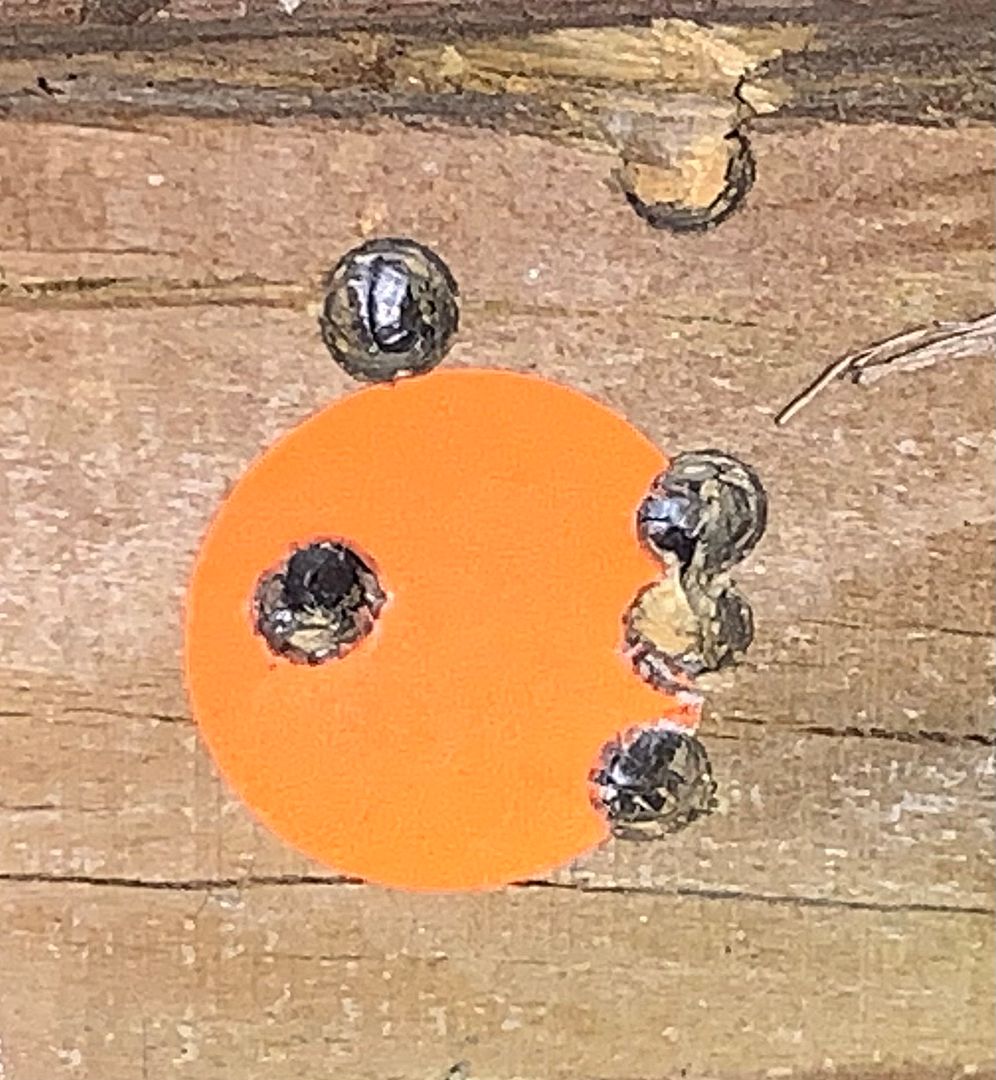 Orange-Dot 3/4-Inch Diameter
Upper POI @ 1-O'Clock
Sighter from Prior Group
Well to my startled-self, the first-shot sounded-like a .22lr going-off ... dieseling!!!
I damn-near dropped the rifle at-the-sound of the discharge.
Boy, was I feeling stupid!!!
Anyway, the rest of-the-shots were a-lot-more quiet ... needless-to-say.
But, not as quiet as I had expected.
Worse, accuracy was degrading.
To the point, only 2-or-3 pellets POIs out-of a 10-shot string were forming any semblance of-a-group.
The remaining POIs were inches-away from my POA.
I suspect after a full-tin of 500 pellets, the near-constant-flexing of the synthetic shroud had caused the assembly to permanently deflect - somewhat.
And as a result, had begun to randomingly clip pellets.
Anyway fast-forward, my F4 is on-the-way-back to Crosman.
But, here is more to this story ... after I finish some domestic chores.
Topic starter
March 29, 2021 05:49:15
Or as in this case disassociate warranty and returns from the vendor.
Crosman may find they will pay an even bigger price than they bargained for, especially if most who buy Crosman get them at Walmart.
I don't have a problem with Crosman ... they're standing-by their product.
As for a refund FROM Crosman, they didn't take my money ... WalMart did.
As-such, the refund should have been WalMart's responsibility.
WalMart's RETURN/REFUND policy is at the heart of my problem ... not Crosman.
While working as a engineering consultant in a state where it was legal... the indoor pot growers know, you cannot get rid of the sound of air being moved.
Even a ductboard sound trap which forces the air through 2 complete 360 degree turns, may completely kill the sound of the fan/s, but the air moved will still be audible. Ductboard is fiber wool (coarse fiberglass) truly excellent sound attenuation material, and non-flammable.
Use silicone feet for the fan mounting. Drill some 1/8" holes in a full tube of silicone, place in the sun. Once cured, it can be cut into hockey pucks, which make fantastic feet, capable of holding substantial weight. I once had my 80gal 5hp air compressor riding on 3 of these feet. Amazing difference.
What you CAN do, is reduce the sound level to within 6 or 8db of ambient, thereby reducing the ability to discern the "whoosh" from ambient noise, as distance increases. From across the room, the gigantic contraption can barely be heard running, and you mostly hear the wind against your ears.
I like memory foam, for inside plastic stocks.
What SteveP said about the downrange sound.
Look at these closely, and think about the real value of taking 12db off the peak. How does that sound downrange?
I stopped at Walmart today for something completely different, but decided to walk through sporting goods. There, posted on the sales case, was the policy for returning airsoft, BB and pellet guns. They give a number to call for returns and exchanges. I get the impression that the big issue here is that they don't want people walking into the stores carrying guns of any kind. I freaks the other customers out, and causes calls to law enforcement. The stores don't want that kind of publicity!
Topic starter
March 29, 2021 21:15:11
After purchasing a firearm or airgun at WalMart ... no one leaves openly-carrying a firearm/airgun in their bare hands.
The firearm/airgun is in an OEM—box, gun-case/cover.
Same for RETURNS ... in an OEM-box, gun-case/cover - never OPEN CARRY.
When I attempted to RETURN my F4 ... it was contained inside the OEM-box.
In what manner I was bringing the airgun into the store ... DOES NOT CHANGE WalMart's written policy concerning Refunds/Returns of Crosman airguns.
My experience with silencers on springers is that they will make much more difference down range than they do for the shooter or anyone near the rifle.
David Enoch
Topic starter
April 14, 2021 10:52:53
Well, my replacement F4 arrived a week-ago.
Looks-like a brand-new rifle ... not a refurbished example and not my repaired original gun.
However, I've been working involuntary-overtime intermittently for the last couple of months.
As-such, I haven't had time to work-with the replacement gas-ram break-barrel.
Moreover, my three moderated Weihrauch springers arrived yesterday.
These Tectonic break-barrels have been consuming what little-time I have.
When I get a chance, I'll be returning to my F4.
Teutonic.
Moderators are useless on springers 😉
Adding-to-this, Crosman has a NO-REFUND policy applying specifically to WalMart purchased air rifles.
Topic starter
April 14, 2021 15:25:11
Teutonic.

Moderators are useless on springers 😉
I beg to differ - sir.
After firing my new moderated German springers ... I'm a believer.
I cede the reduction in sound-signature is nowhere-near as pronounced as-on PCP/MSP guns.
And, the mechanical sounds produced by the spring & piston still account for the majority of noise generated by a springer.
Top: HW30K
Middle: HW50K
Bottom: HW80K
Still, there appears to-be .... in-my-opinion ... some perceivable improvement.
Enough-so, for me to consider the additional expense of a moderator to be cost-effective.
But, it will take some sound-pressure instrumentation to prove the point.
Electronic equipment I don't own - for now.
However in the link below, is a video of a fella that did take-the-time to measure the difference indoors.
Airgun silencer (moderator) test with Weihrauch HW97
So-much-so, I pulled-the-trigger on a couple of German break-barrels I've had my-eyes-on for a couple of months.
A trifecta of Teutonic-springers with moderators.

Yep, I've been thinking about-this for quite-a-while ever-since I-first-spied an HW30 Urban Pro.

Weihrauch HW30S .177 Urban Pro Air Rifle Video Review

Couldn't get this little-rifle out-of-my-head.

Moreover, I saw an HW80K with a factory moderator.
The HW80 got my attention.
So did the HW50S Hunter.
Boy, you musta been working some overtime!