Crosman 1720T Field Target Pistol with Scope ... Crossed the Rubicon - Again: My Third PCP Pistol
Topic starter
November 19, 2020 15:11:34
REFERENCE:  
Crosman 1720T Field Target Pistol with Iron-Sights ... Crossed the Rubicon - Again: My Second PCP Pistol
Well, I followed-through and purchased a second 1720T for use with a scope.
In this case I decided to mount a Leapers 3-12X32 Bug Buster optic.
I decided not-to-use the OEM medium-height, quick-detach, picatinny/Weaver rings included.
Instead, I purchased a separate set-of Accushot, 1-inch, low-rings to keep the scope as low as possible.
The low-rings provided just-enough-clearance for the flipping scope caps to open-and-close.
The scope-and-rings are mounted on a Weaver Tactical, AR Flat-Top, 20MOA Riser Rail, model number 99675.
I employed a drooper-rail to avoid exceeding the scope adjustment range when zeroing at 10-meters.
Moreover, the inclined picatinny/Weaver rail is adapted-to the 1720T dovetail-groove with Leapers dovetail-to-picatinny rail adaptors. 
I believe the consistent-use of a single-source-OEM scope-mounting-components contributed to a very compatible bore-axis/scope-axis alignment.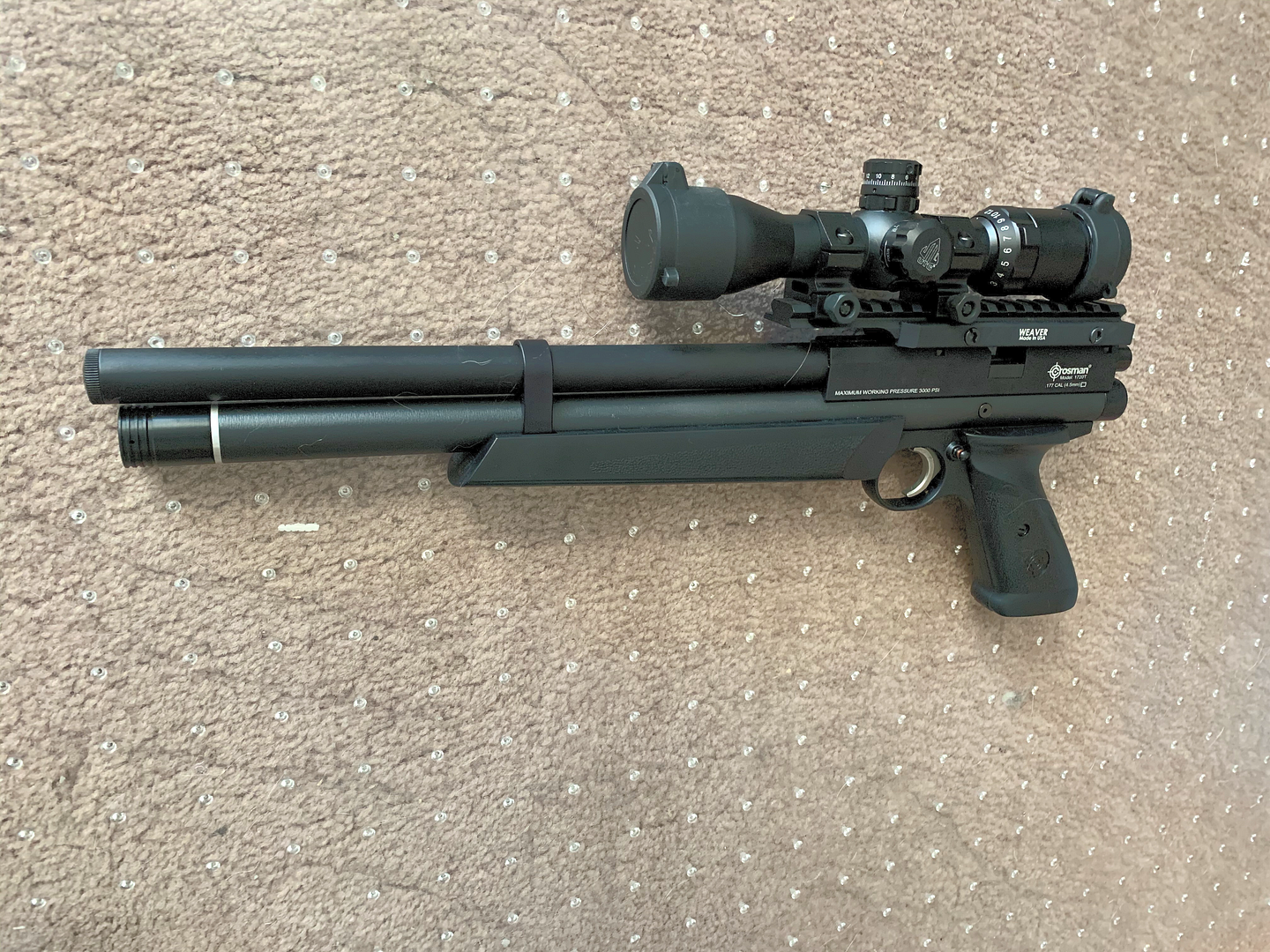 After performing a rough-zero at approximately 10-yards/meters using Crosman Premier 7.9gr hollow-points.  
With the pistol fully-rested on soft-bags making for a solid and steady hold.
The hammer-spring-tension set-at maximum and the hammer-stroke adjusted for full-travel with a fill-pressure of 3K psi.
I took a few more shots at 15-yds to "confidence-check" my scope adjustments.
Then, I moved further downrange.
The target above was fired at 20-yds.
The POA was the center of the black-diamond.
Note how close the windage-zero adjustment @ 10-m translated-to @ 20-yds.
This proved-to-me that the consistent-use of a single-source OEM-components contribute-to consistent horizontal-axes alignment.
The above pink-dot aimpoint is 1/4-inch diameter @ 20-yds,
While performing final scope adjustment, I fired approximately seven quick-consecutive shoots.
One-shot at far-right may have been as-a-result of poor eye-scope alignment issue.
The shots, to-the-left were following another scope adjustment.
The above green-dot aimpoint is 1/4-inch diameter @ 20-yds.
This was after I performed an additional set-of scope adjustments.
And, I confirmed my final zero with these three-shots.
November 19, 2020 15:25:12
so it appears that pistol is almost impossible to load with that set up
my question is why would you do that to yourself, a smaller mount would move it forward and then you would only have the fight the scope 
heck you could get a scout style scope and move it forward away from the loading area and have enough eye relief to boot 
Topic starter
November 19, 2020 16:00:03
First, I considered an application-specific handgun scope.
However due to COVID-19 complications, the availability was indeterminate.
This being the case and considering I wanted to be able to take-shots at very close range ... the Bug Buster filled the bill.
I also wanted to avoid 10-meter zero problems for lack-of droop compensation.
As such, the sloped-rail ensured I wouldn't encounter that problem.
As-for loading, yes it is a bit-problematic ... but, not prohibitively difficult.
More-of an inconvenience that-is easily managed by-the-use of a "Pellet Pen" with the rubber-tip removed.
Even without a "pellet pen", it is not hard to "hand-load" a pellet.
It just takes a little-care and some-finesse. 
Further down the road, I'm considering adding an AR-15 type pistol-stock/arm-brace.
The addition of a stock/brace my entail moving the scope aft.
In any event, the scope-mount-system maybe subject to another configuration.
But for now, this set-up performs adequately for my purposes ... sparrow sniping at 15-to-25 yards.
Topic starter
November 19, 2020 19:52:41
The additional heft provided-by the scope, optic rings, drooper-rail and dovetail-to-picatinny adapters has altered the handling dynamics of the 1720T.
My 1720T with peep-sights and picatinny-rails was balanced sufficiently muzzle-heavy to-hold the front-sight steady.
The same could not be said about my optics equipped 1720.
The increased-weight of the optics are set more-aft with the results being a more-neutral weight distribution.
This concentration-of-mass more-towards the receiver contributes-to a less-stable muzzle.
To-the-point, the barrel feels a-bit-flickery just-as the out-of-the-box trigger left-off is about to occur.
Not-good when your optic is set at 12-power and the target is a small sparrow with a center-mass hold at 23-yards.
It can be done ... but, it ain't easy - a real challenge in-deed.
If the target is a Eurasian-dove at about 25-yard, the shot is easier.
I've done both with center-mass holds.
And, found the 1720 was way-over-kill on a sparrow.
While being a little-on the weak-side after impacting a full-size Eurasian dove in the breast - tough flight muscles.
Kinda reminded-me of the damage a Crosman 2100 at full compression inflects on birds. 
But, the shrouded-barrel 1720T is definitely quieter.
November 19, 2020 21:41:45
I have the same pistol,love it;Custom grips help my hold,I have a Burris 3X7X32  pistol scope .I use two pc.medium mounts on it.
 My Prod has a SC carbine stock,I use the Bug Buster on that "pistol"also works out great.
November 20, 2020 14:14:12
Clever. I'm impressed with your scope set up as you have the scope in very a good location.
I have a MK 1 LD that I mounted a Bug Buster but had to clear loading port by 5/8".
Topic starter
November 20, 2020 22:41:28
@crazyhorse
Awwww ... I wouldn't say clever.  
Rather, a lesson-learned from my experience-with one-of my other 1720Ts.
I didn't want to contend-with a scope that is overly-high.
Take-note in the photo below.
The cheekpiece is extended as-high as possible ... still, not quite high-enough for me.
The lower-profile of the Weaver Tactical, AR Flat-Top, 20MOA Riser Rail, model number 99675 along-with low-rings.
Place the scope at a much-more usable-level for me.  
Crosman 1720T Snub-Nose, 4.5-to-5FPE, Lothar-Walter Barrel,Challenger Stock, First-Generation Marauder Trigger
NOT-Regulated (the HUMA stick belongs on other 1720T)  
Leapers 3-12X32 Bug Buster, Hawke 1-inch Weaver Low Rings, Leapers Drooper Mount.
In due time, I'll probably will-be converting my Snub-Nose 1720T to the Weaver Tactical, AR Flat-Top, 20MOA Riser Rail set-up.
November 22, 2020 17:55:51
Topic starter
November 22, 2020 20:12:29
Actually,I'm looking at something more minimalistic.
AR-15 Pistol Buffer Tube Assembly
RAI-AOO1 Adjustable Stock Adapter for Crosman air pistol
By the way, if ya have a spare A001, I sure could use it.
I already have two full-stocked 1720Ts
Crosman 1720T Compact, 9-FPE, Huma Regulator, Lothar-Walther Barrel, Challenger Stock, First-Generation Marauder Trigger
Moderator Extension, CP 3-12X44 Spectrum / Sun Optics MED Fully-Adjustable Mounts
Crosman 1720T Snub-Nose, 4.5-to-5 FPE, Lothar-Walter Barrel,Challenger Stock, First-Generation Marauder Trigger
NOT-Regulated (the HUMA stick belongs on other 1720T)  
Leapers 3-12X32 Bug Buster, Hawke 1-inch Weaver Low-Rings, Leapers Drooper Mount.
Topic starter
November 26, 2020 16:03:58
CROSMAN 1720T PERFORMANCE STATISTICS
Trigger Pull:  1lb-12oz to 1lb-13oz, Out-of-Box 
Name: 1720T Scoped
Notes: FILL PRESSURE
   Pump Gauges:  3.0K psi
   Reservoir Gauge:  3.1K ps
Transfer Port:  High Velocity
Shots: 5
Average: 745 ft/s
SD: 4 ft/s
Min: 740 ft/s
Max: 752 ft/s
Spread: 12 ft/s, UNREGULATED
Pellet:  Crosman Premier Hollow Point
Weight: 7.9 gr
Earlier, I had compared the hunting performance of this 1720T to-that of a full-power Crosman 2100 with the same pellet.
Apparently, the 1720 packs a little-more-punch as a result of a slightly-higher velocity.
Almost at HW50 levels of FPS/FPE.
I may change-to lighter 7.4 g Crosman Destroyer alloyed-lead pellets or RWS 7.0 g Hobbies lead-pellets to see if greater-penetration and/or knock-down power is demonstrated.
You experienced PCP-guys, ya ... I know what you're thinking.
About the fill-pressures ... in an UNREGULATED airgun, maximum velocity IS NOT generated at maximum-fill-pressure.
I filled the gun-reservoir to the indicated-pressure on my hand-pump ... two gauges:  the pump-guage and an additional inline gauge.
This was done to check the relative-accuracy of the reservior-mounted gauge.
Then, I dry-fired the pistol to check the trigger-pull and to-drop the maximum pressure.
Thereafter, I began velocity testing.
3-Shot Group @ 20-Yds
CPHP 7.9g
POA 1/4-inch Green Dot
Zero-Check after Barrel Bump
Topic starter
November 30, 2020 19:02:17
Yesterday, I was checking-zero on several of my airguns.
One-of-them happened to be my scoped 1720T.
The following groups were all fired-from my 1720T.
At 20-yards with 7.9gr Crosman Premier Hollow Points.
This is previously-posted target shown-for illustration purposes.
3-Shots to confirm windage was set.
POA was the 1/4-inch Green-Dot
This is previously-posted target shown-for illustration purposes.
3-Shots, POA Green-Dot
Had the elevation been set correctly.
This is what I would have expected to see.
The above picuture of-of one-shot that I fired-off yesterday.
The POA is-the-hole where the Green-Dot had been.
The POI was the Green-Dot ... where the hole is now.
I was gonna fire-off a 3-Shot-group to confirm-zero after I clicked-in some down-elevation.
While aiming through the scope, as the shot went-off.
The Green-Dot ... just ... disappeared.
At first, I thought the shock of the "sudden-impact" caused by the pellet-strike had dislodged the Green-Dot.
Seen it happen before - not uncommon occurrence.
Thinking this was the case, I went-to the target and searched-the-ground in-front of the target.
I could find no-evidence of a Green-Dot on-the-ground.
So, I separated-the-target from the back-stop ... and there-fell to-the-ground the Green-Dot in two-pieces.
In the above image, I pieced-together the recovered Green-Dot sections with Scotch-Tape.
And, placed the patched-together Green-Dot adjacent to the POI.
I'm thinking, my zero is good.