'Bout time for a new hunting thread
With the last hunting thread being started over 2 months ago and the last post in that thread over a month ago, I felt it about (overdue) time for a fresh hunting thread. So allow me. Feeling air pistol hunting is sorely under-represented in airgunning, let's go there.
Having decades ago adopted brain shots as the preferred modus operandi when airgunning due to the more humane method of avoiding pain and trauma in the prey's final moments on Earth, I became proficient enough employing brain shots on small game and pest species with accurate air rifles that the challenge eventually evolved from challenging to routine.
When this squirrel that had invaded my workshop was caught observing a .22 Sumatra accuracy-testing session by peeking out of the corner of said shop, holding 5" into stiff crosswinds for the 75 yard bench-rested shot achieved the desired (humane pest-elimination) result. 
That being roughly the same era I began using my emotional-favorite Crosman 150 Co2 pistol for small-game hunting, I found braining squirrels and rabbits with the 1.5X scoped 150 rekindled the kind of challenges I seem inexplicably drawn to. With ongoing success, my self-imposed range limit of 20-25 yards increased about 10 yards as my 150 hunting rig's capabilities improved on inanimate and animate targets alike; virtue of the introduction of JSB pellets, and an upgrade to a 3X scope. In the 1980s I'd been plenty impressed with the 150's 1" average groups at 25 yards, but its latest bench-rested efforts produced .37" c-t-c average three-shot groups at that distance! Nevertheless the 150's muzzle-energy of 6.5 foot-pounds dictates hunting shots beyond about 35 yards unconscionable. Enter pre-charged pneumatic pistols!
One of my best offhand pistol hunting shots ever came with the 3X-scoped .22 Crosman 150, a 35 yard brain-shot. 
Having on several accuracy-testing occasions with powerful PCP pistols gotten sub-3/4" AVERAGE five-shot groups at 50 yards, small-game range limitations shift considerably more toward shooter capabilities than ballistic capabilities. My Will Piatt modified .22 AR6 (appropriately-named) 'Hunting Master' PCP pistol producing as much power and accuracy as 'magnum' air rifles of yesteryear, small-game terminal-ballistic capabilities fall somewhere north of 50 yards. Actually, way north of 50.
This 1.10" c-t-c six-shot group at 50 yards with the AR6 'Hunting Master' is representative of it's average-group capabilities. 
However, even with the sight-picture advantages of a 2-7X pistol scope, 7X magnification also magnifies human wobbles. Though obviously only proportionate to the magnification, if you've ever tried to shoot a 7X-scoped pistol from anything but a rock-steady bench-rest, the increase in human wobbles to scope magnification seems poignantly EXPONENTIAL!
Given the usual, burgeoning population of cottontail rabbits on my 40 acre place but with my hesitancy to kill them, sometimes they become so populous in my yard that their digging adversely affects my constant efforts to coddle my Bermuda grass into some semblance of a 'lawn'. Hence, I'll occasionally thin out the rabbit population in the immediate area around my yard. A makeshift, two-by-four gun-rest in front of the steering wheel of my ATV now allows exploring the practical small-game range limits of the Hunting Master pistol. 
This 42 yard brain shot was made possible virtue of help from the less-than-solid, makeshift pistol-rest of the ATV.
My confidence in the aforementioned set-up buoyed by the successful 42 yard brain shot above, when the next presentation came at what I estimated to be 45 yards but the sight-picture suggested an ethical brain shot somewhat less than probable, I went for a chest shot with the flat-shooting AR6. Thankfully the cottontail dropped instantly and expired within about 15 seconds. The paced-off distance turned out to be 46 yards.
Is the Hunting Master pistol small-game capable beyond 46 yards? Certainly. Am I? Doubtful... at least off the rickety rest of my ATV. Nevertheless, I consider a virtual doubling of my air pistol hunting distances in the decades I've enjoyed the challenge to be not at all bad.
Given such small and JUMPY targets, thankfully a .22 pellet carrying close to 20 foot-pounds of energy drops the most deadly 'game' in human history dead in its tracks, even with chest shots.
Any other air pistol hunters out there? Rather, should I say, any other air pistol hunters out there that care to come out of the closet? 😉
I know for me, airgun pistol hunting is something that I always say I'd like to do and I do have the proper gear for it... but I lack the skill. I just simply am not able to shoot a pistol to that level of precision.  I've tried scopes, red dots, open sights.   Just is a no-go for me. While I've always admired your pistol (PB, PFT and hunting) accomplishments, I can do nothing more than drool over them and hope one day to appease the pistol Gods.
My crowning moment with a pistol several years back when I popped a squirrel with a 2240 PCP conversion.  I wasnt even hunting.  I saw it outside my house and I took a pot shot, not expecting to hit it.  I did and so skinned and in the freezer it went and was thrown on the grill some time later.
I suppose the only time I actually 'hunted' a critter with an air pistol was when I was casting some bullets a year or so ago and I heard some rustling in the leaves outside the garage. I grabbed the AirMax pistol and went to investigate and shot a tiny mole that had poked up looking about.  I took a pic of it, but cant find it at the moment (not that it's that impressive...hahaha)
I passed on a hunting master pistol at a show years back and always regretted it and every time I read one of your books or see a post of yours, I regret it more. 
Maybe this will motivate me to get out my crop of 'hunting' capable pistols and work on them.  Got the AirMax in .177 and .22, along with a couple Crosman conversions. 
I'm in the same boat as Rob.  I'm not practiced enough with a pistol to do what I think is an ethical job at removing pests.  I spent some time a couple of years ago with my first hunting-capable pistol, a SPA PP700S-A, practicing with it and somehow managed to get a headshot on a chipper at 30 yards the first time I squeezed on a living thing:
Still, I never got comfortable enough with it to use it on the regular so I turned it into a long shot count plinker (80 shots at 6.5fpe).  Kinda makes me wish I could find a rat infestation somewhere close by and just wear them out with it 🙂
When writing about handgun hunting I've always been pretty good about including disclaimers to the effect, "One should be intimately familiar not only with the capabilities of One's chosen weapon, but the capabilities of One's self", and, "The adage 'Practice makes perfect' is incorrect. Practice makes proficient; proficiency instills confidence; and confidence breeds success."
But somehow I totally spaced-out including handgun-hunting disclaimers in my original post of this thread. Thank you guys for having my back in that regard with selfless confessions that you don't feel qualified enough to pursue handgun hunting. I'd like to think I might have had something to do with you guys being astute enough to not use a pistol for hunting if not confident in making humane kills.
However, in no way, shape, form or fashion can I take any credit whatsoever for the fact y'all also have the integrity to admit it on a public forum as an excellent reality check for others that might consider handgun hunting.  But knowing you three guys (to varying extents), the "astute" and "integrity" parts come as no surprise. Those traits shine through the quality of your posts... with no need to read between the lines. I just have one question for you guys.
Do you give lessons in humility? I know someone in dire need!
For the same reason I've yet to take anything (other than a dove..yes, a dove) with traditional archery.  I just dont feel confident enough yet to do so.  Perhaps one day. I'm in no hurry.
In any case, you've inspired me...and I'd assume many others... to life life to the fullest and pursue those things that seem difficult to do! 
You, Sir... have lived the dream! 
I think with any hunting, there should be a modicum of self control.  I 'do' feel confident with a bow or a pistol (with some type of rest aid) within 20 yards.   I feel like I could make the humane kill at those ranges.  So should I pursue such, I would need to limit my shots to such.  This is true with airguns in general and of course extends to powder burners.  Not to present a 'holier than thou' attitude, but I do wish more folks understood their limits on such.   
I have both CO2 and HPA tanks, but never use them...I can get about 30 shots from carts which is plenty for me. When I go hunting I just stick the LD in my pack where I can ding the close in squeeks.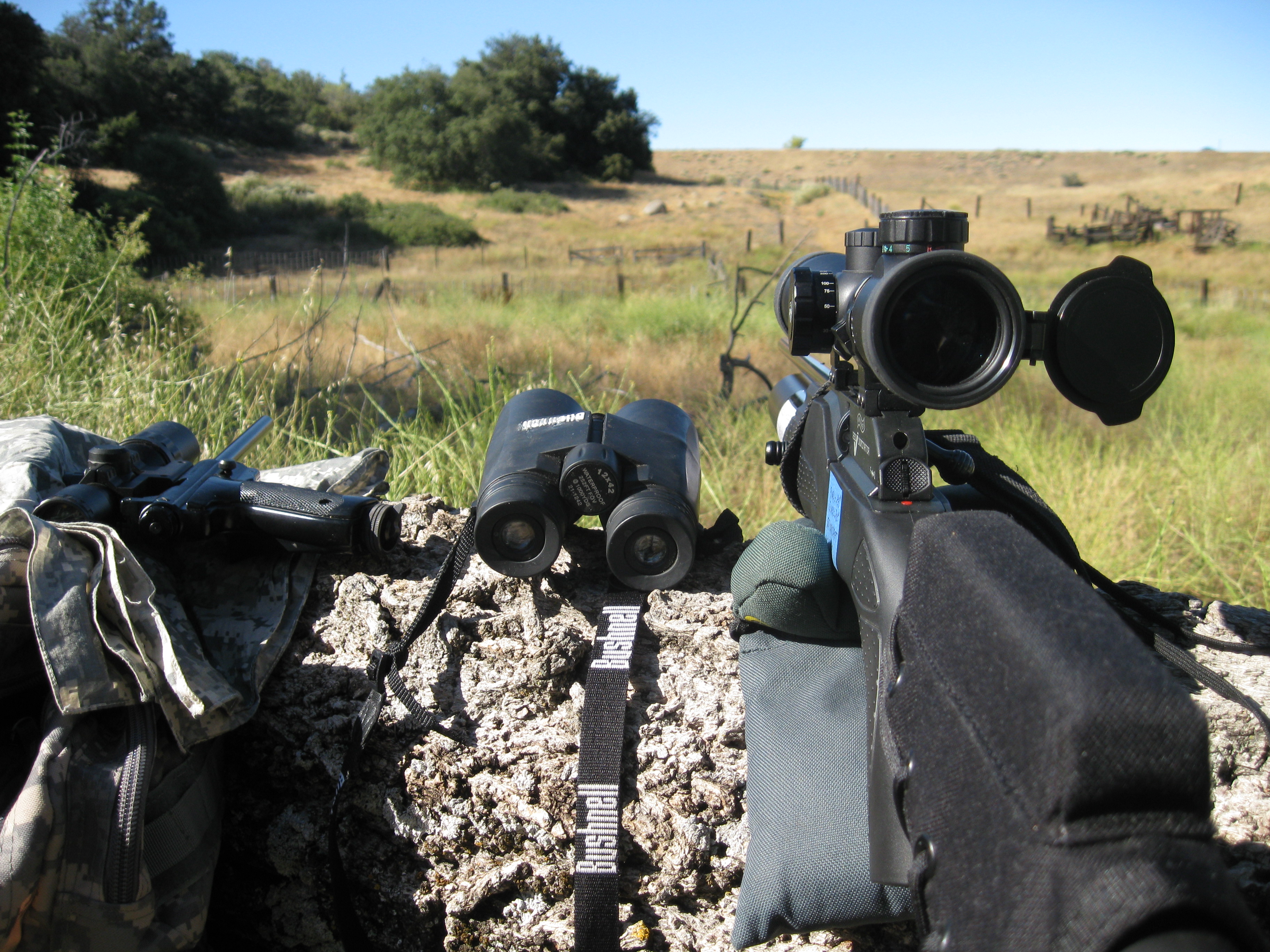 New here but not new to airguns.  Like many before me I was drawn to airguns for pest control.  In the beginning I had a MASSIVE chipmunk problem.....not that they weren't overly large chipmunks, just that they overtook my property in literally the hundreds.  They destroyed my retaining walls, ran amok in my barn, taunted my GSD so much that he just ignored them after a while. They were mostly dispatched with a myriad of springers, then I got a PCP and lo and behold the squirrels moved in, probably due to the decrease in the chipmunks.  Well I never thought I'd dine on a squirrel but was pleasantly surprised how well they cooked up.
This was from one mornings hunt.  Into the fryer you go!  The Benjamin Marauder F&T .177 slinging NSA 21gr slugs drops them instantly with pinpoint accuracy.  Sadly the decrease has left zero sightings of any little critters in the past month or so as they've undoubtedly gotten the memo to stay clear of my structures on my property.