With the re-designed JSB's all the rage, consider the alternative
You'll save a few dollars too.  The H&N Sniper Magnums are similar in design, and are devastating on squirrels (only available in .177 & .22 at this time).  95% of the time Mr. Squirrel only needs one pellet.  The .22 version is similar in weight to an JSB Exact Jumbo.  Haven't shot the .177's, but at 15 grains I'll stay with the pinpoint accuracy of the Kodiak Match for now. 
Did try them...certainly looked good...but didn't get them to shoot well enough in the rifles tried.  Kind of disappointing really.
Couldn't try all the heavier weight .177's, but did try a selection.
The number at the top is the basic over all length of the pellet...which some might find useful.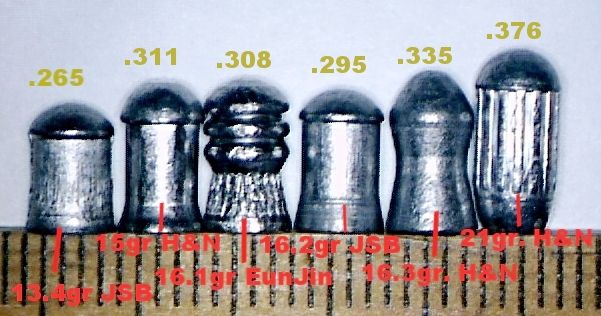 HAve to admit, the heavy weight H&N sure looked good....have had good results with the Kodiak/Barracudas...thought they'd be a winner.
Really wanted one of the faster .177 rifles to shoot some of the heavy weights well.
None of the fast rifles (lets say making 24-32 foot pounds...which is fast for a .177) cared for the two on the right. The other pellets found several lifles that shot well,and most found a rifle that shot them great.
(Yeah..even that really ugly 13.4gr. JSB on the far left...which was one of the UGLIEST tin of JSB pellets I've seen.)
From that point,started trying all the .177's on the orphan pellets, no matter what their speed, just to see if they could find something to use them up.
Did find a rifle that shot the .177 Piledrivers well enough to use up what I had on hand. ran out of the H&N's before I found anything that would shoot them well enough to rely on.
I'm not surprised with your findings for the .177.  At 15gr. these are very heavy pellets.  I own them, but figure a 18 - 20ft. lb. gun will not have enough horsepower to drive it.  However, the .22 18gr. pellet has really excelled in smashing squirrels.  Maybe if they drop the .177 to 10.5 - 11gr. then we would have something to talk about.