Tell me a Story (RWS Career 707 or Sam Yang Sumatra)
Attn: AGW Members who have owned a Sam Yang or RWS Career 707 air rifle
and can share what they like or dislike about it…or any story's or insights you may have about yours. 
I'm trying to make a review video but the one I got won't feed pellets.
…I'm about to single shot load at least 100 rounds today…which takes almost 2 minutes each.
So it would help me make a better video if I could hear some more about these guns. Thanks! -Nate 
Cool LDC huh? It doesn't do a darn thing…This gun is Super Loud!!
Find me anytime at http://www.Air-Gun-Channel.com
Dear Airgun Channel:
AFAICR, the Career 707 needed the shuttle adjusted to the length of the pellet you wanted to use. To adjust the shuttle you had to disassemble the receiver almost completely.
The magazine was loaded in line and had to be inserted with spring held back. Once inserted the spring's lever was automatically moved into the battery position. Extracting the magazine, or removing it from the gun without keeping good tabs on magazine spring tension created a "pellet fountain" that was interesting to say the least, only for the first time, after that it got really irritating.
The MAIN advantage of the Careers was their usage of the "battering ram" effect of the air flow hitting a solid wall and having to reverse its path. The other advantage; maybe just as important, was the barrels; they used a type of Forsyth rifling that was extremely good at high speeds.
Some were so accurate, that they were even used in FT. The "A Team" made regulators for those guns for some time.
At the time the Careers were brought into the USA (2002-2005), it was a free-for-all power struggle between the importers, of which RWS was only one, ARS was another, AoA was another, SSS was another.
Sadly, Shin-Sung (Korea) did not recognize the issue and thought they were being smart by letting one importer outsell the other.
Then the family split and some members were selling parts assembled guns as Shin-Sung, when they were not really assembled at the factory.
The fact that the Careers are no longer offered in the US market, speaks volumes.
The other problem they had was that almost every batch was different. What worked good in one batch did not in the next.
Mr. Goldfarb made some pretty amazing stocks for the Careers, but that also died. A very interesting skeletonized aluminum/injection molded parts stock was made that was lightweight but because the makers had no engineering background the stocks came apart. They were good in compression, but pull them hard and the whole thing disassembled itself. Not fun.
When the Careers stopped being sent to the US some importers saw their wire transfers go through, but no guns came back. At least one friend was almost forced into bankruptcy.
Back at the beginning of this sad story (before the turn of the century), it was RWS the one that started bringing them in, BUT back then, and NOW EVEN MORE, it should be VERY clear that RWS has NOTHING to do with DIANA on the corporate level.
Putting the Outlaw, with the DIANA handbook and the Career on the same photo, might be characterized as "misleading".
I am not saying that you are doing it intentionally, clearly there is a lack of information and "memory" in the airgun industry. But now that you have some facts at hand, I would strongly suggest you do NOT portray the OUTLAW as a successor, or relation in any sense, to the Career.
Different countries of origin, different manufacturers, different importers, different mechanisms of operation, different advantages, different weak points.
The story is even more complicated, but for the purpose here, let it be noted that the most basic outline has been given.
Keep well and shoot straight!
HM
Wow, thank you for that information. I am way farther ahead now. I will try and adjust the shuttle. I will also include a bunch of that information in my video. Thank you for hooking me up. -Nate 
P.S. I did put the Diana Outlaw there on purpose because it is going to be the successor to the Career video hopefully. Or it may come out first, but I was just bragging to everybody who knows me that I have a Diana Outlaw now. They know what comes next. 
Find me anytime at http://www.Air-Gun-Channel.com
HAve no idea how old this one is....bought it used something like 9-10 years ago (sothe rifle itself may be 12 years old).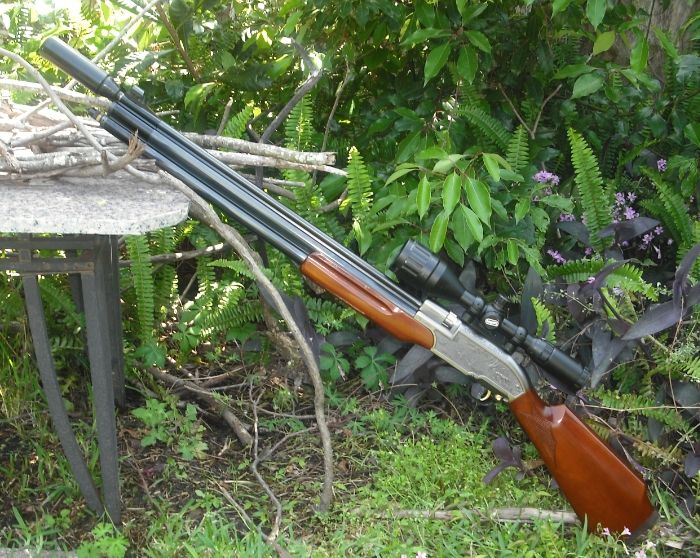 Being a 5mm, and knowing the EunJin 5mm pellets are really-really long was one of the reasons.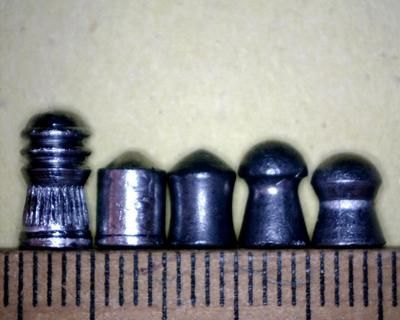 Cranked all the way up,can manage 1025fps with those 23gr.pellets for about 2 magazines (12 shots).Real air-hog, but getting 53-54 foot pounds of energy from a 5mm was pretty impressive.
Normally, for the sake of shot count,will shoot those same 23gr. pellets to a more reasonable 940fps. for 24 great shots (4 mags) and not really miss the energy loss.
It's a one-trick-pony,the only heavyweight pellets have been out of production for quite some time.Still have 6 tins (and maybe 40 left in a 7th tin). Consdiering how few long range critters I get to shoot at each year, that should last me longer than you'd think.
I've owned 6-8 Careers in .177, .22 and 9mm, and two .22 Sumatras; rifle and carbines (in both brands), and have written on them extensively in five books, some magazine articles, and on airgun forums.
I consider the Career II 707's and Sumatras virtual clones except for the magazine/cylinder. Each has its advantages, but I prefer the Sumatra's cylinder for the reason you're now experiencing. CAREFUL, the little pellet-shuttle-adjustment screw easily strips out its threads in the receiver! 
I always de-tune Careers and Sumatras in order to get bell-curve power-bands at great power, rather than losing velocity with each shot at insane (factory) power levels. I consider them accuracy equals, but sometimes takes some to a lot of testing and tuning to extract full potentials. Most of mine would average .60-.70" five-shot groups at 50 yards, and the .22s and .25 averaged 1.25 - 1.50" five-shot groups at 100 (SIX-shot groups with the Sumatras).
.22 Sumatra rifle at 97 yards (SIX-shot groups)-
My current .22 Sumatra rifle co-holds the club record at our monthly Bench-Rest Silhouette competitions. We shoot 1/10 scale silhouettes at 60-100 yards. It's a laser with 18.1 grain JSBs at 985 FPS / 39 foot-pounds.
"No brag; just fact."- Will Sonnett
I currently have a like new Career 707 II .22 carbine. It is the third one I've owned plus I have owned 3 Sumatras in carbine and rifle. The only downside for me of the Career is the adjusting of the shuttle. I have mine shooting the Cpum 14.3 at 900 fps for most shooting. If I need to turn it up or down it's just a click away.
It is accurate with almost every pellet I've tried but I stick with the cpum and Eujins 28.5 when I need power.
I only own the top one now.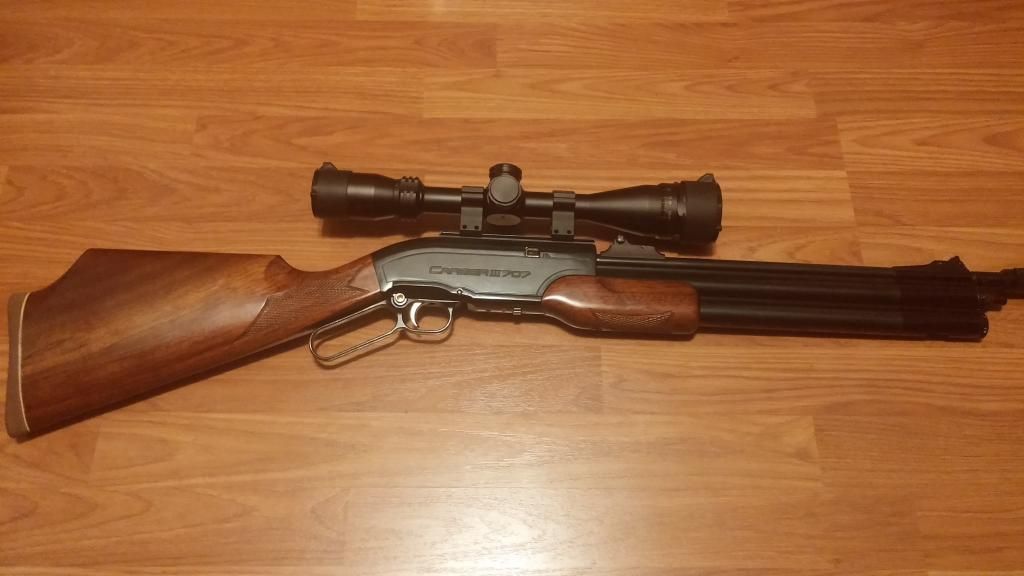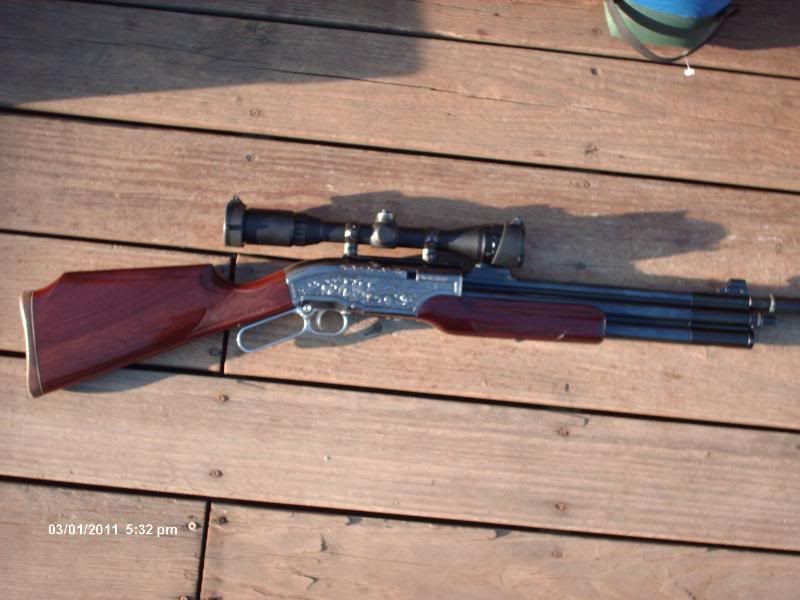 Career Pellet Shuttle Adjustment
Remove the magazine. Open the lever to cock the rifle, and put the safety on. Work the lever open and closed a couple of times to identify the pellet carrier (that picks up the pellets from the magazine to carry them over in line with the bore when the lever is closed). Now lay the rifle down with the left side up.
A word of caution is in order here. The pellet carrier adjustment screw (phillips head) is very fine thread and threads into aluminum. I once tested a .25 Career for American Airgunner magazine that had stripped threads when I received it, so you won't be horsing down that phillips head adjustment screw much more than pretty snug.
Loosen the screw now, noticing the pellet adjustment gizmo that the screw holds in place. That is the gizmo that you'll be adjusting. With the lever open and the screw loosened, use a toothpick to slide the adjustment gizmo all the way to the rear (of the rifle). Now using the toothpick, slip your chosen pellet into the back of pellet orifice in the pellet carrier until the ass-end of pellet is a hair beyond flush with the ass-end of the carrier. Snug the phillips head screw down at that adjustment point. That should be the correct adjustment. Test it, and if it cycles fine in live-fire, tighten the screw down just beyond snug.
If the pellet only goes flush with the ass-end of the carrier, or goes too deep into the carrier, you'll have feeding issues. Expect to have to fiddle with it a couple of times to get it right, so don't tighten the screw beyond snug until you're sure it's feeding correctly.
"No brag; just fact."- Will Sonnett
For a few summers, I decided to use the 5mm as a bird-zapper (have this thing about Cowbirds).
So tuned it for as fast as it would shoot 5mm 14.3gr.CP's with accuracy....and was surprised that it still grouped them well at +1000fps (not quite unique...but it's been very vew air rifles that really seem to like 4 digit speeds).
So I tried them on one target (target staying still, shooter moving back and lazer ranging).
Which is actually a reduced setting for this rifle (it can do the smae speeds or better...with a lot fewer shots...with 23gr.pellets)....but the object was to shoot Cowbirds,energy was purely secondaty to accuracy.
Which does NOT agree with the ballistic calculator's predicted path for that scope height above the bore (1.58").
But when faced with a prediceted path (with a BC as only an estimate) and observed results...I tend to go with observed results even when they are in conflict with the predicted results.
Which trasnlates (as far as drop) to2" above to 2"below a ded-on hold....so basically,was never aiming more than across a Cowbird'sback (20-40 yards) to even with hsi feet (70-80 yards)...which simplified holdover considerably,
Have been severalpost about how wellthese riflescan shoot once you figure them out.Which is pretty much in opposition to a lot of thinking:
1.Barrel is very far from "free floating".
2. However wide and well blended in,that thing at the front is still a great big nutted-down barrel band.
3.twop;ice stocks arethought of as less stable than one piece stocks
And yet...they can shoot.
I also had a Sumatra 25 carbine that shot way more accurate than I expected. I found that as long as the pellets were at least 32gr and I kept I kept the power adjuster at half it was as accurate as my tarantula..... Off subject, does anyone know where I can get some kind of a stock or folding stock for an AR6 pistol?