Springers need attention too. 6 gun comparison
The other night I found myself with some down time and decided to play with some spring guns. Here's what my results were. I was using a 25 yard range. One mulch box to warm up the gun and sight it in. One next to it to do the four weight pellet test. The chrony tests were all done with the same weight per caliber. 
The guns were all bag rested for the accuracy test.
The players were a CZ 634, HW 30, R7, HW 50, R9 and HW97. I forgot to take a couple photos if the CZ 634 so I'll add those later.
CZ 634
The CZ trigger has had much needed work. So this is not factory setting.
HW 30. All my .177 chrony tests were done with a JSB 10.34 pellet. Hindsight I wish I'd used a lighter weight that they seem to shoot better with. 
Accuracy at 25 yards. I've had all the .177's group better at 20 yards. Just trying to keep the range the same for all of them.
I'd thrown in some 13gr pellets out of curiosity and it took a fair amount of holdover to hit the target. I don't recommend them.  😏 
Trigger weight.
(Opps, forgot to load image. I'll come back to this one)
Weight. Obviously scopes are a factor. Not pulling them off for each gun. 😜 
Accuracy and pellet test.
R7
HW50
WH50 trigger has had work done. It's much lighter than stock.
R9
HW97
Best springer effort.
It doesn't look it by size alone, but after really practing hard with 4 different springers over 5-6 weeks, I shot this one group.
5 shots for erach springer, target at 20 yards, so 20 shots (5 shots from 4 different springers):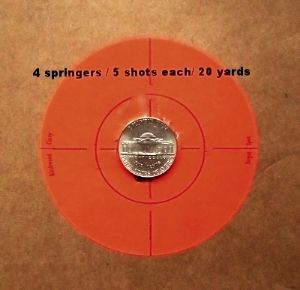 Four different aclibers, cheap (less than $170) to moderately expensive (about $400):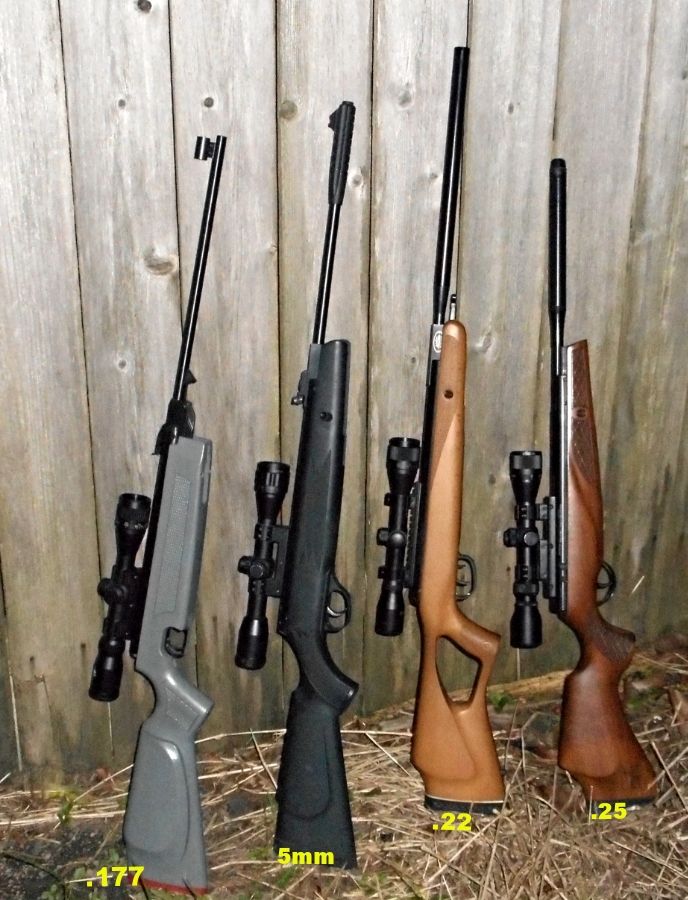 With exclusive practice (nothing but springerws for a month an a half) that's as good as I can do...and good enough considering the variation in guns/calibers/ pellet wrights/etc.)/
Unfortunately, it would take me another 4-6 weeks to get back there....which is likely why devote springer shooters stick with the breed and not flit back and forth between PCP and springers like butterflys.
....which is likely why devote springer shooters stick with the breed and not flit back and forth between PCP and springers like butterflys.
True. Kinda. I almost exclusively shoot spring rifles or multi-pumps. But only because my PCPs are more purposed than plinkers I can also hunt with, and because they're stupid accurate and therefore boring under 50 yards.
Nice post, btw. Makes me wish I had enough time to do and record in depth testing to share with the masses
Well, I was a little disappointed in some of the grouping results so I thought I would try it again with a full rest. I just knew the guns had done better in the past. I also did a full check on the stock screws. The HW50 was very loose. It also improved the most so check those screws!
Used this rest.
Started with .177's at 20 yards. The CZ 634 won over no flyers. It's an accurate gun but my least favorite to shoot. For it's price break it's impressive just that compared to the R7 and HW 30 it's clunky, unrefined and twangy.
Moved out to 25 yards. The HW 30 took that round.
I was much happier with the .22's this time. They were grouping as I would expect them to,
Nice job, looked to be a fun shooting session. What I find interesting is sole use of JSB pellets. Most of my German guns, and I have a few, prefer H&N pellets. If you haven't tried them for accuracy may I suggest the FTS, field target trophies.

Cheers
Thank you. If I'm really trying to find the perfect pellet for a gun I'll go to the H&N drawer as well. I've just had such good results with JSB in my PCP's I tend to assume they will have satisfactory results in most guns. It is painting with a broad brush to assume that but it's worked out okay. I also don't want to start pellet drawers of H&N stuff either. 😉  It's been suggested to put a sticker on each gun to remember it's favorite lead. I normally just think .177 about 8gr, .22 16gr. Generally hits what I aim at and have a tin right there. 🙂 
I agree the CZ is unrefined in stock form, but it responds greatly to tuning. The stock guide is tapered, and very short with spring clearance of .020-.050". A custom guide and tophat gets rid of nearly all twang. The stock spring is robust and fine. The lockup can be made much nicer with the addition of HW barrel shims. These changes bump this gun up a notch.
My HWs and Dianas also need tuning in stock form, so for me it is just something done with any gun I get. The important things are triggers and barrels. The CZ trigger is pretty decent; predictable and safe while not to heavy. It does keep the CZ a notch down from the HWs, but the accuracy makes up for it.