Ron Robinson's new airgun book now available!
On contacting Steve for permission to announce my new book, Custom Classic and Otherwise Awesome Air Pistols!, he also graciously agreed to allow me to quote him. "Nobody writes like you Ron lol. I love your style." 
With that quote in mind, understand Awesome Air Pistols! carries a NO TIME LIMIT, MONEY BACK SATISFACTION GUARANTEE. If you don't think it was worth your money, simply return it for immediate refund!
PayPal price is $27.50 total, which includes Media Mail postal delivery (or add $5.00 for Priority Mail). Contact the author for more information and ordering at 254-253-1239 or manicompressive at yahoo dot com
More book details in the attached file.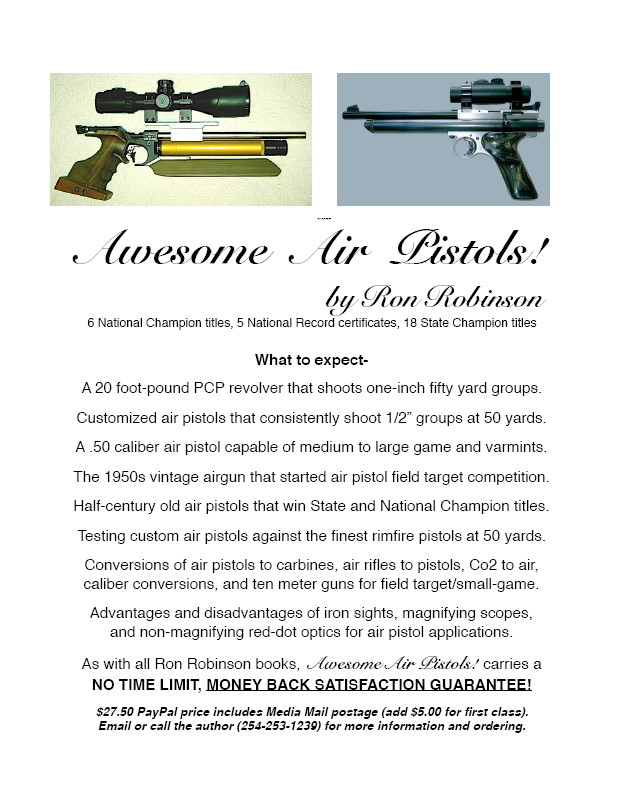 "No brag; just fact."- Will Sonnett
Looking forward to this one!  For those who have never read one of Ron's books, you should give it a go.  Not the normal advertisement BS from someone paid to say nice things about guns.    Just stats and facts, with some quirky humor and wit thrown in. 
All those who believe in psychokinesis, raise my hand.
Good judgment comes from experience; experience usually comes from bad judgment.
Howdy again Ron!
      Per our Email conversations, I still use your scope mount set you sold me on my restomodded 160 Pellgun. That thing is a tack driver! The Archer copy of the redesigned Crosman valve of like 1963 is getting 660/11.76 now. I have the XP-Tuned valve going in that's supposed to be worth another 70FPS. We'll see. Have you ever written a book about the vintage Crosman rifles, like the 160/167, etc?
Hi LC,
Sounds like you're still enjoying that 160; cool. Since my first 160 is what plunged me head-long into vintage airguns, four of my books have covered them in one way or another ranging from mentions, to chapters, to model dating and production quantities (of all vintage Crosmans). But no, I've never written a book specifically about Crosman 160's. 
Only my current book is still available (outside the used market), and it's air pistol specific. Even so, somehow the 160 still managed to get mentioned!  😉
"Consider this insight into the roots of my prejudices. The Powers That Be back then actually increased the Sporter Rifle Class weight-limit from 10 pounds, five ounces to 11 pounds to legitimize the monster-scoped 'Sporter' rigs they preferred. Nevertheless and often as not, my 6-3/4 pound, 1950s vintage Crosman 160 'silhouette rig' still prevailed."
Happy shooting Bud. 
"No brag; just fact."- Will Sonnett
I have just finished reading Custom, Classic, and Otherwise Awesome Air Pistols. This is a very entertaining book, with Ron's sense of humor featured on most pages. But, it covers the entire range of accurate air pistols, with commentary on all the types and what it takes to make them accurate. From the simplest to the most advanced, he describes key differences, the features of specific historic and current models, and even what can be done to improve them – with full details.
Ron is probably the main reason I have been involved with competitive airgunning, so reading his pistol prose is a reminder of many other things he has taught me, but I learned more today, and got a lot of laughs. Highly recommended.
Wow... thanks Steve, Rob, LC, and Jerr; I appreciate the kind words.
However promotion of my book ran its due and just course on this site in my (shamelessly self-promoting) last bump. Being a tech IDIOT, I'm not sure how my ad was resurrected; but worry it might violate the rules of fair play (here). That so, I'd be a bigger hypocrite than I am to accept unfair advantage. So my apologies if that just happened.
Please understand Friends, I don't mean to bite the hand(s) that feed me; but simply cannot accept undue advantage. Key words, 'please understand'
Moderators- please review this thread for posting violation(s).
"No brag; just fact."- Will Sonnett