Plenty of pics to document scope swapping on my Sumatra 2500 twin tanker - can you say Canis Latran?
Some time back I traded a freshly resealed yet seldom used AAS410 in .22 for a like new Sumatra 2500 twin tank 500CC .25 caliber beast with three magazines, some slugs and a way to tame its bark. I remember getting some feedback at the time that it was a lopsided trade, however, neither here nor there as I shoot the Sumatra more than I ever shot the S410.
I have decided that you either love the Sumatra or you hate em'
I am in the "Love'" group. I do find the angle on the grip kind of funky, however, I shoot it every time I get the guns out and it brings grins every time. It hunts like a beast. Very consistent without being regulated and very, very accurate with a variety of pellets. Now that I have made my case for the rifle – what is this post all about?
New glass and rings! I also got some flak for having such a large scope on the rifle. Many suggested a smaller scope without as much power. Idea being making it more nimble for hunting etc. For me the 2500 is a dual use rifle as I do hunt in the woods for tree rats and I also do quite a bit of bench shooting. That is punching paper and going after fire alarm bells mounted at various distances in the trees. Getting harder to find some of the targets with the increase in foliage.  
I purchased my second of the same scope from Vector Optics. I also have two other Vector scopes and have been pleased with them all. This post shows what I accomplished this past weekend. Removing the 1-piece mount and big ole scope and replacing it with a sleeker scope that sits atop some interesting single rings. Come along and see…
So first task was to get outside and here in Alabama it is night and day difference between my basement shop (temp and humidity) and the summer heat and humidity outside at the shooting bench. I took all the equipment outside and let it sit under the shooting bench tarp so it could come up to outside temps etc.
The scope that is coming off is one of my tried and true ZOS 10-40X60 side wheel scope with the funky trajectory that is Y shaped etc.
So first step take off the old to make way for the new: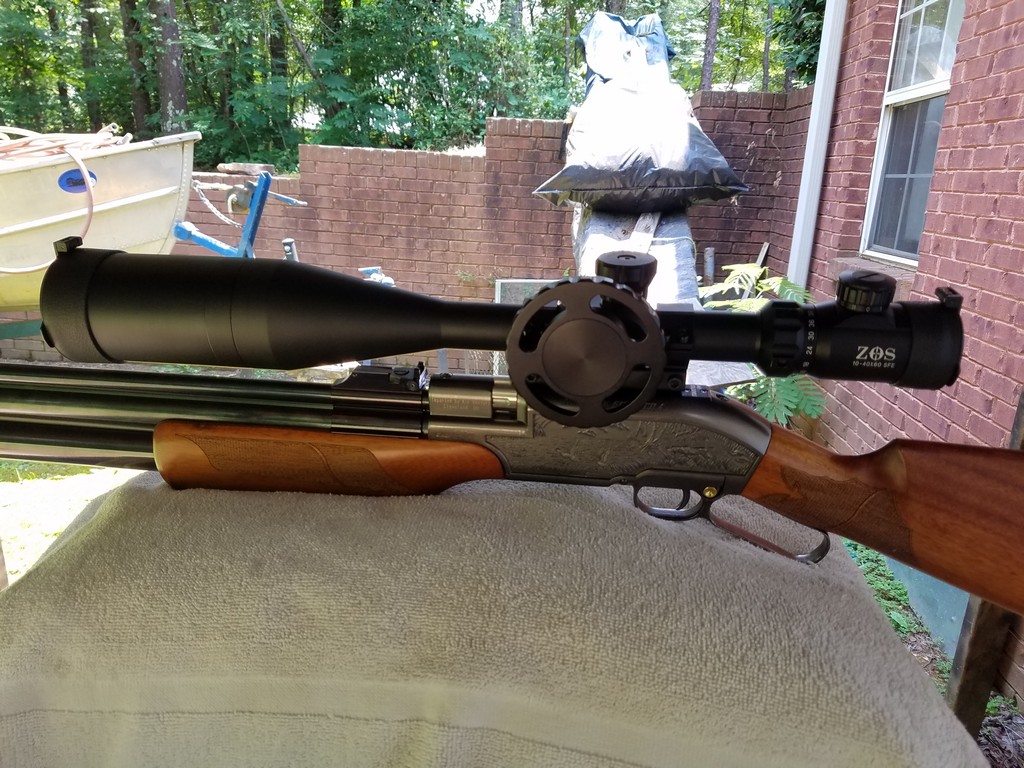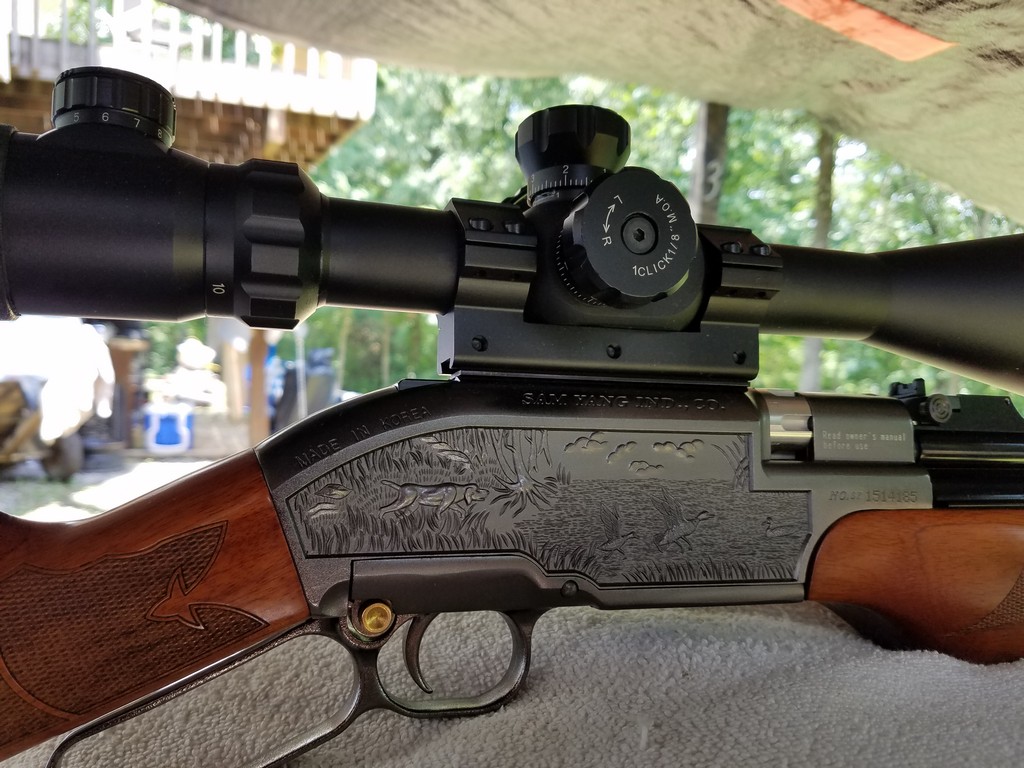 Loosen a few allen grub screws on the mount and it slides right off!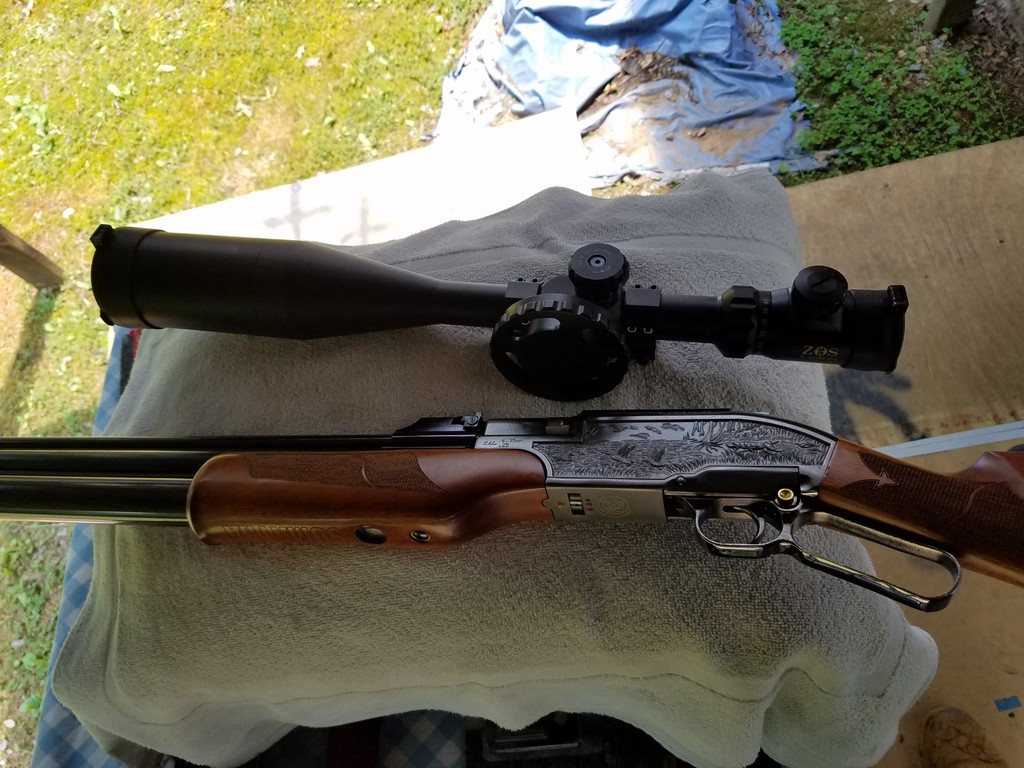 I decided to stick with a scope that I have on my FT rig currently. It is not a $1K piece of glass, but it gets the job done for me. Smaller footprint as well versus the ZOS that came off.
A TAC Vector Optics Sentinel 10-40 x 50mm with Illuminated Glass MP Reticle. A few clicks on Amazon and 2 days later at my door. I picked this one as it has a smaller objective and while not quite as compact as a say 4-9X40 little scope it slimmed down the profile quite a bit and I still have the magnification I like for punching paper.
What is inside now? Let's look…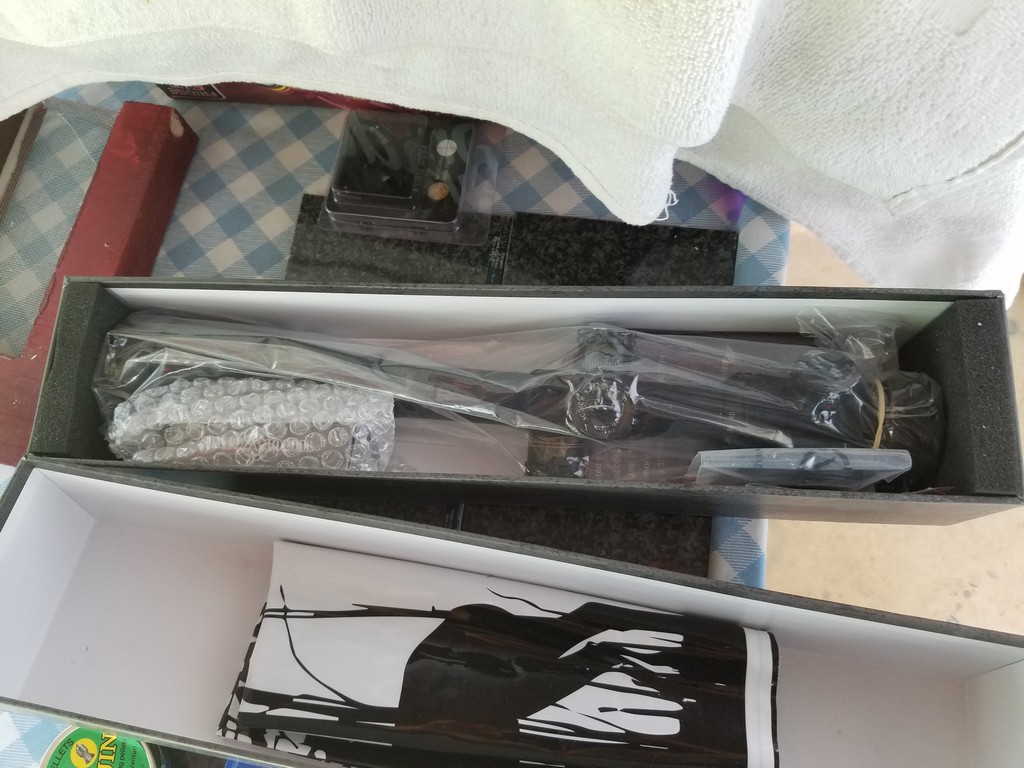 All laid out for a better look. I did not include a pic of the free target" but that is a nice touch. My favorite swag was the free scope magnet! I am like a kid with that thing. Showed it to everyone at work. It rests on my HAM radio in my car to remind me to get out and shoot more.
Now for how to put this new scope onto the Sumatra? You really do not have a very long scope rail. I dabbled with the thought of a rail adaptor etc. But decided I wanted the scope as low as possible to the rifles bore. So off to the on-line candy store again and I found these. Canis Latran 30mm Dovetail Scope Mount Rings Medium Profile for 11mm Dovetail Rails (2 Pieces).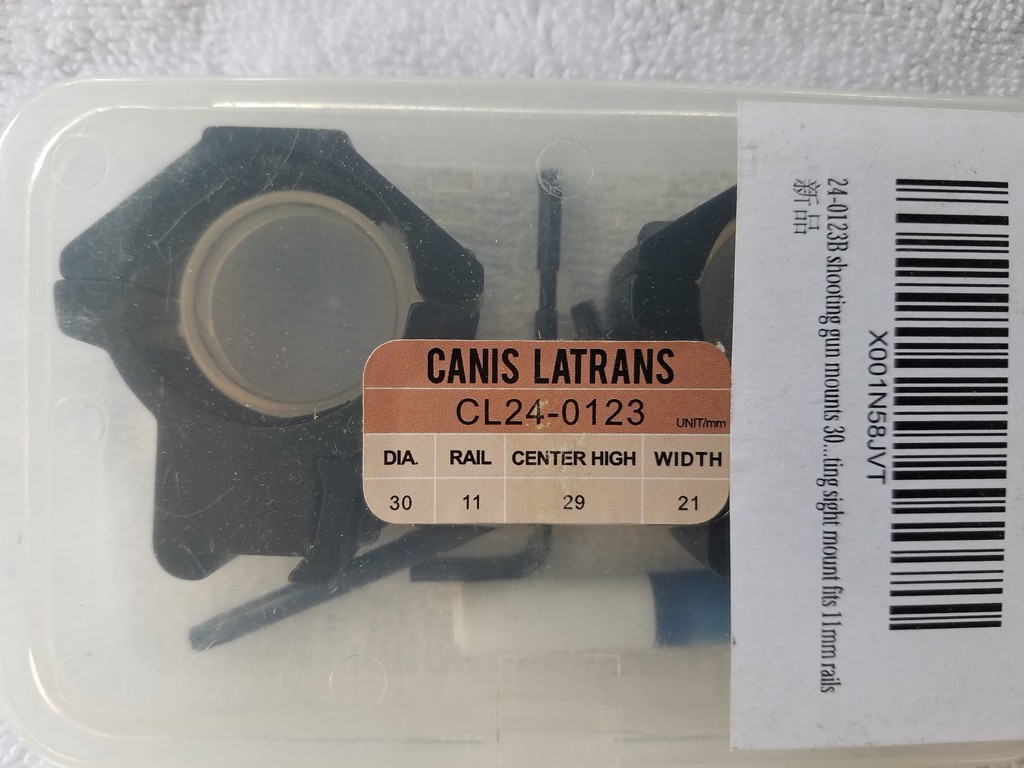 Never heard of these guys before. The sticker price was right so I thought I would give it a try. I checked them out on the bench and they both appeared to have a good bore as well as they sit level on the rail. Here is what comes inside the nice little plastic box they shipped in.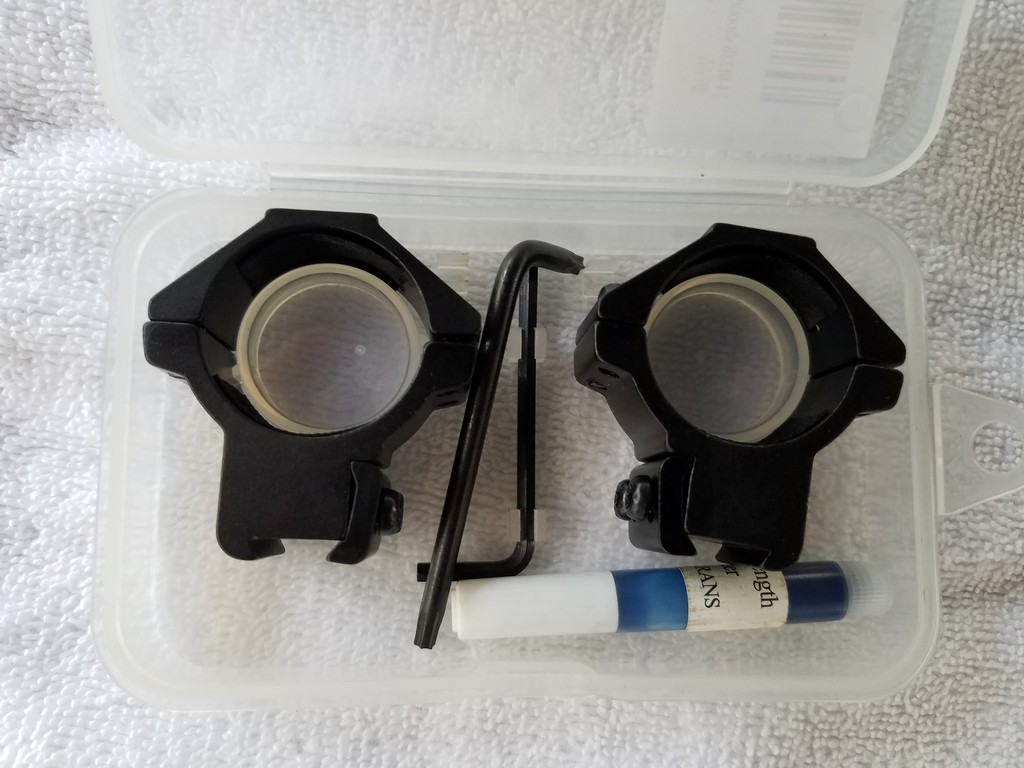 Now for the part where you either like it or you get out some denatured alcohol and start a rubbing. Look what each one has on one side.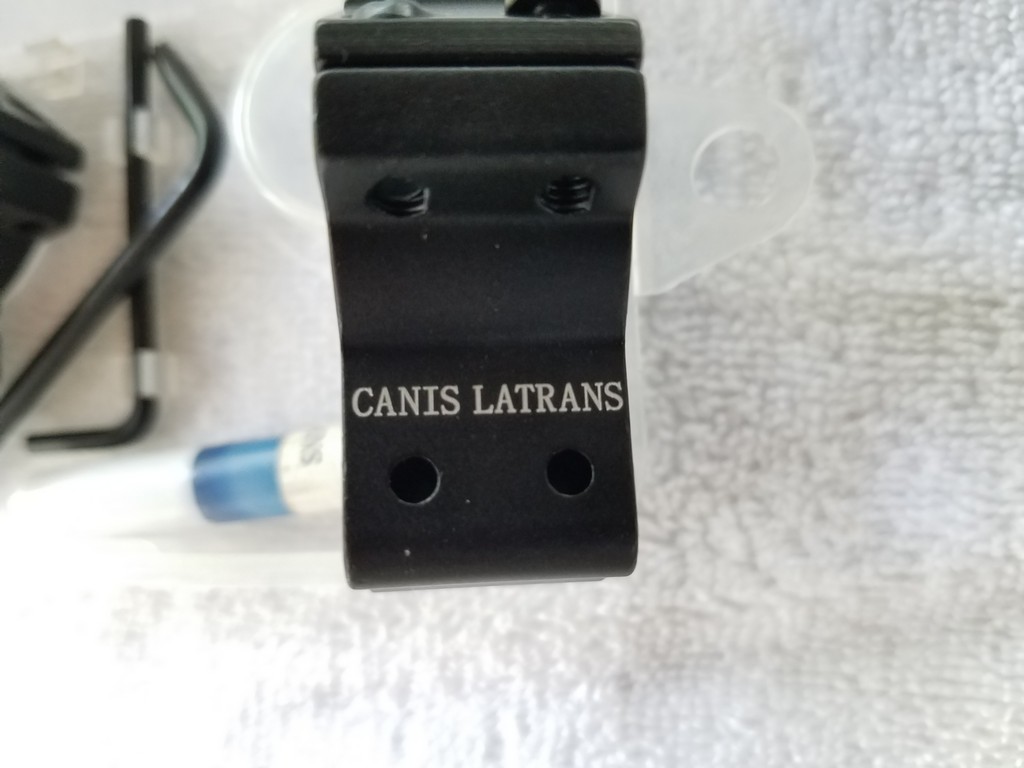 Knowing of this before I ordered them I did some digging and found a few translations. The most consistent one comes back as aka "The Coyote". At least that is the translation that I like the best…..
I mounted the TAC on the Coyote(s) and this is what it came out like.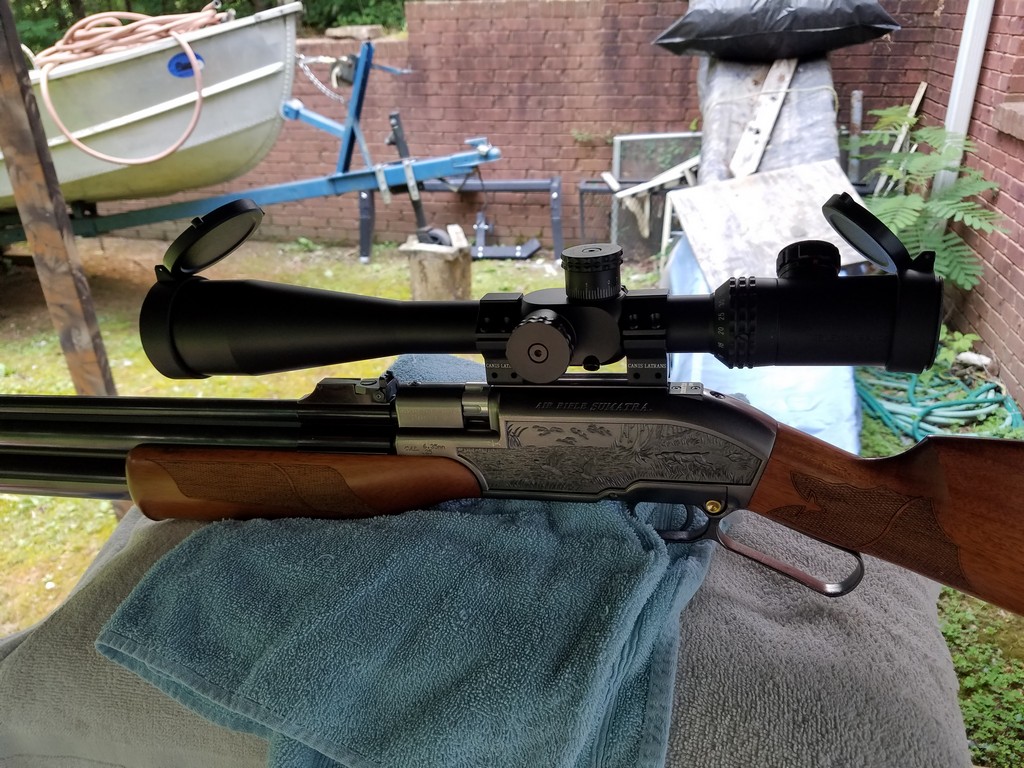 To see if I accomplished my goal of reducing the monstrous size and scope/mount footprint I present you with this pic.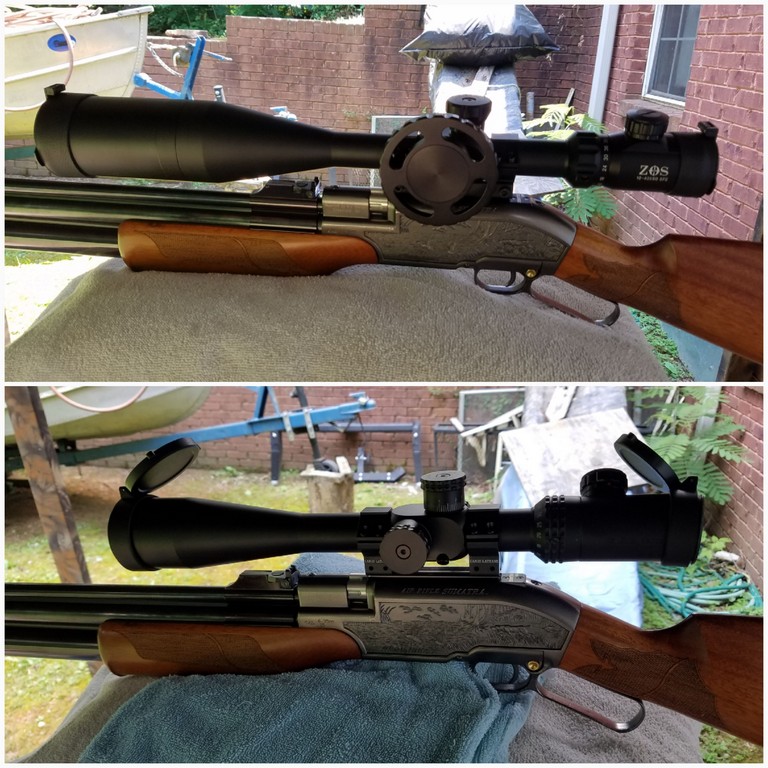 It may not appear to look like much of a difference in that collage, however, the rifle is lighter and better balanced when shooting offhand. Of course it sits atop the old sand bags quite nicely as well. Here are some more shots once installed. The squirrels will be saying "Oh no – the coyote, the coyote!" J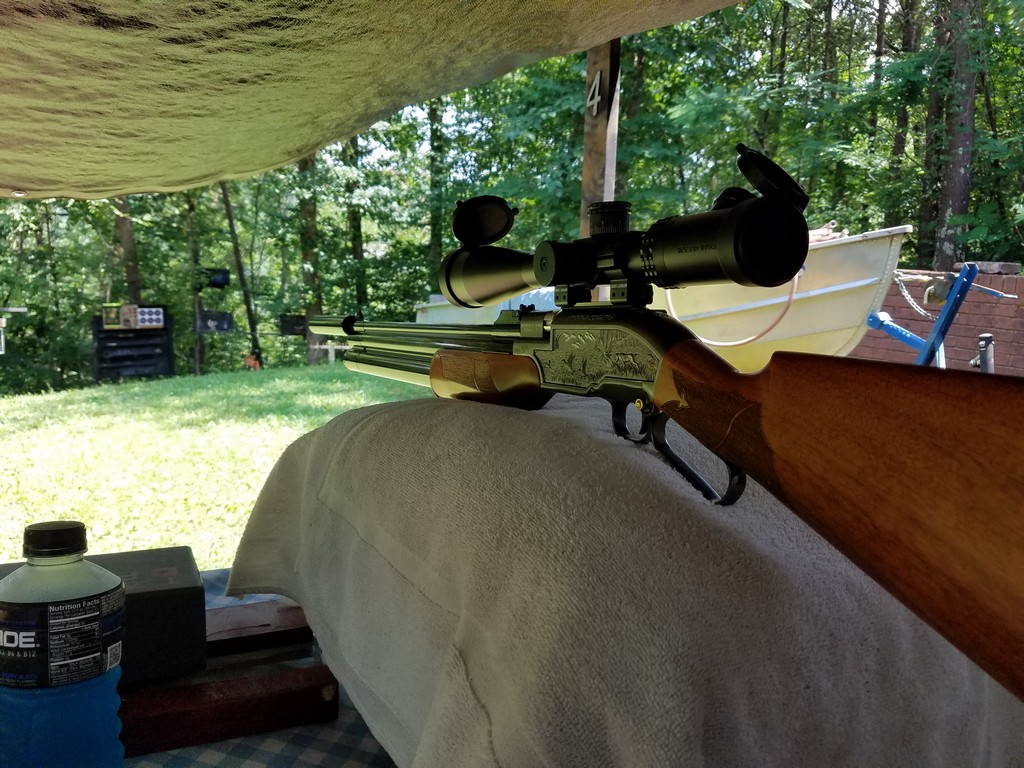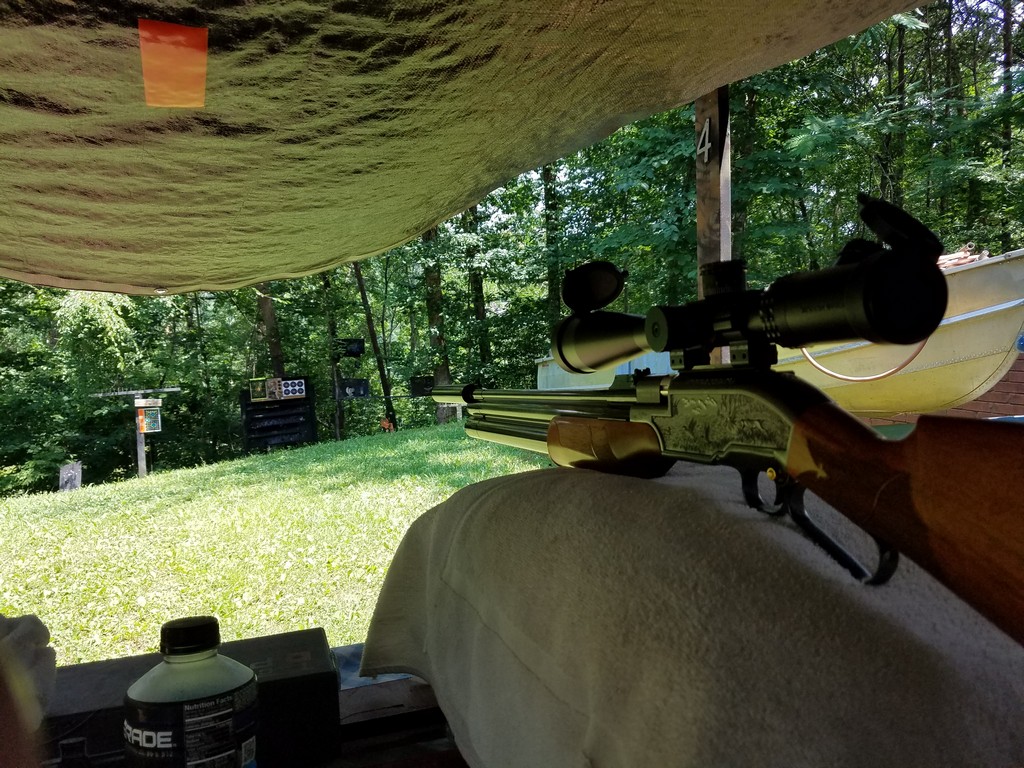 The obvious question is how does it perform? I found the eye relief to be consistent with the other scope that is on my FT rig. I was fortunate that it sat with just enough room to get those new mounts on. I have a large heavy metal backboard that sits just shy of 30 yards out. Got the rifle ready.
I am a little shaky with my hands but I managed to hold my cell phone just right to get a glimpse of the 1" square sight in target at 40X power and on the board I described above.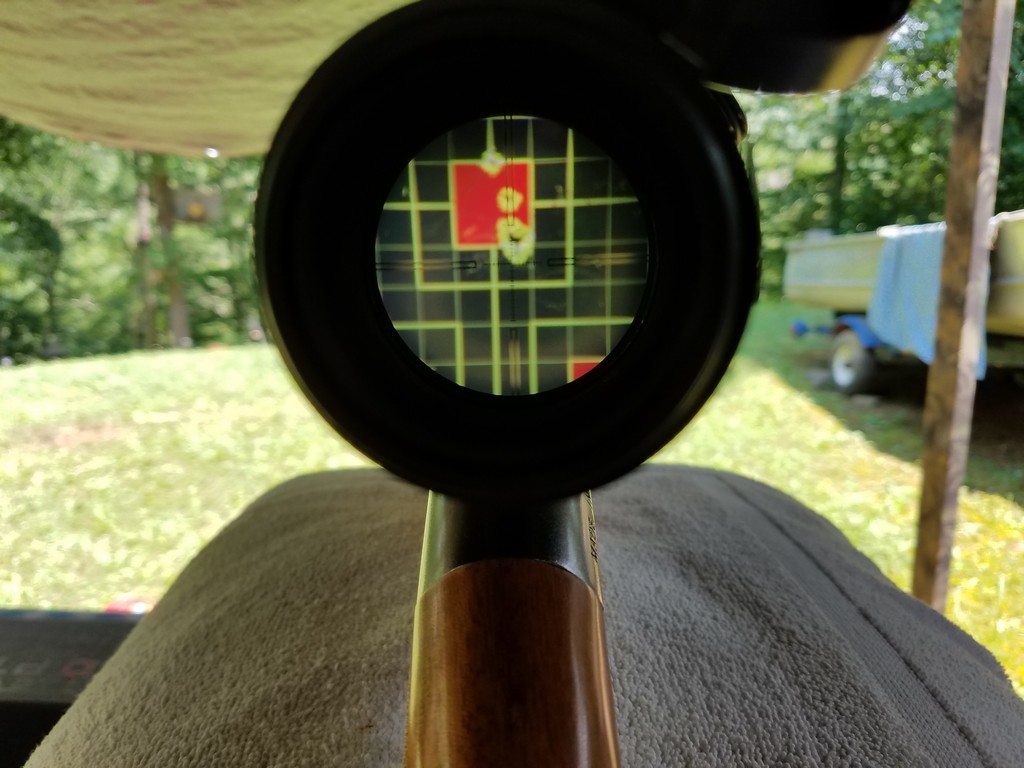 I started the sight in process. I was pleasantly "reminded" of a feature of this scope that the ZOS does not have. That is the turrets for windage and elevation are lockable via pull up to adjust & push down to lock in place. Nice. Real nice. The 2500 shoots so many pellets very well that at this point I usually hunt with H&N Sport Baracuda 6.35mm @ 30.86 gr. I also hunt with Beeman Crow Magnum 6.3mm @ 26.23 gr. It shoots the JSBs well and of course I have on hand some Eunjin pointed 43 grain….. Those group extremely well. So I started shooting with what I had on the table.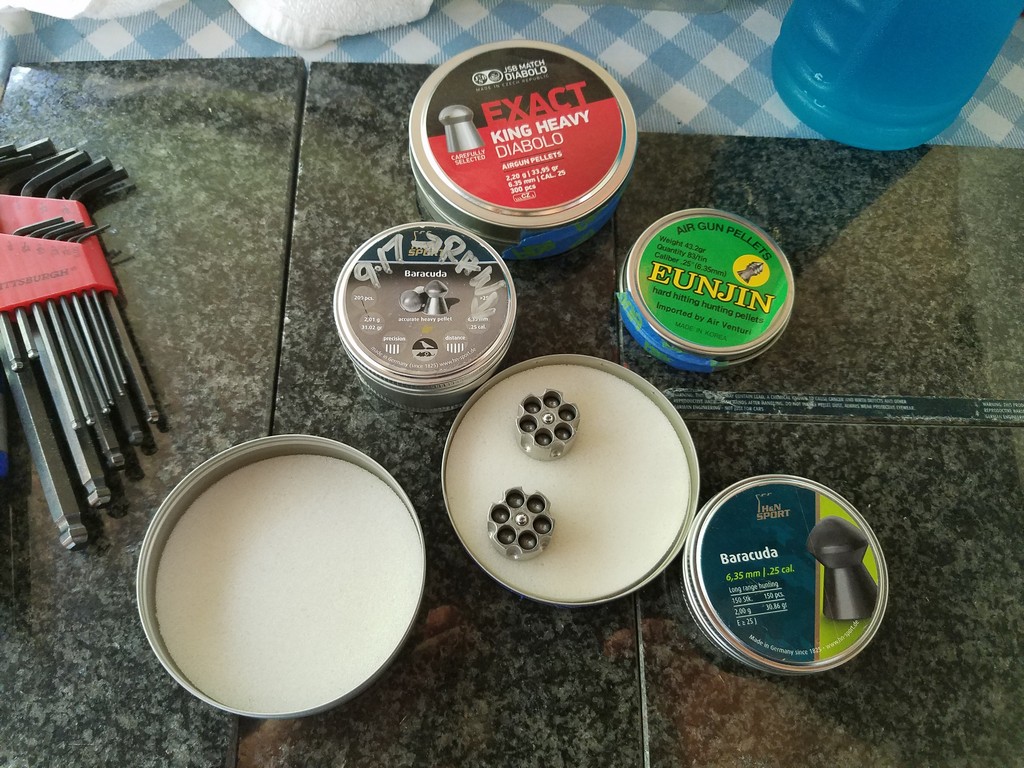 Then it rained. Then it cleared up and the sun came back out and the AL humidity rose from the earth like a fog from the swamps of….zrrrrrp! What am I saying? Basically it rained then it cleared back up. There. Better. I made a new target as the rain thrashed the first one.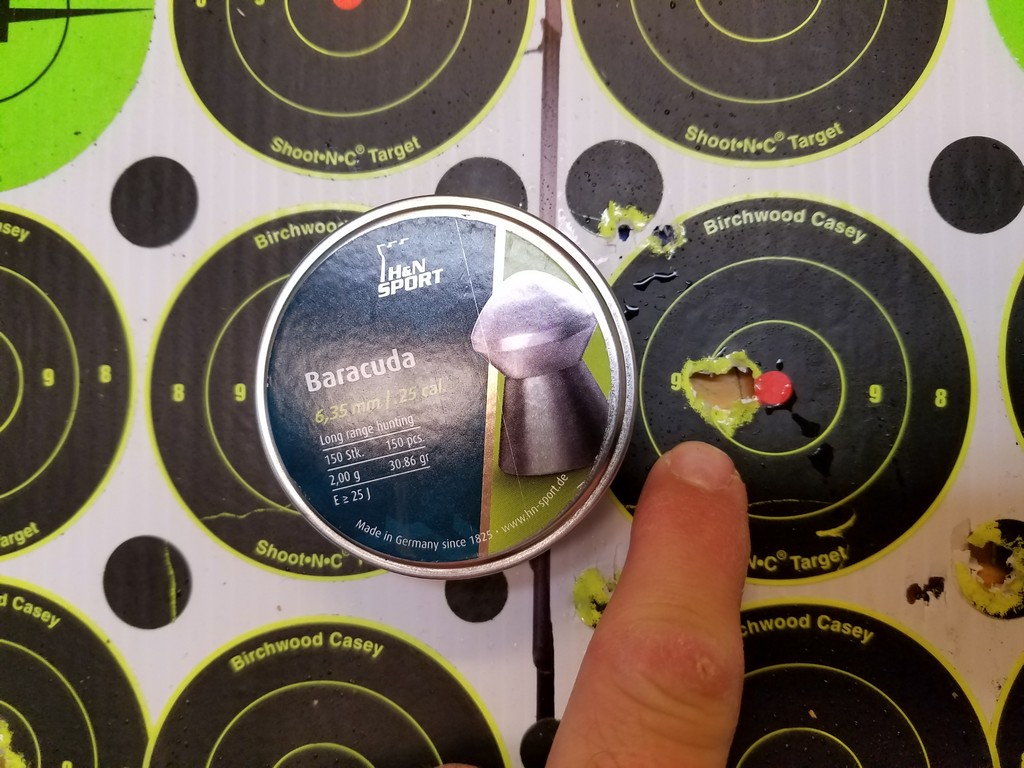 First up will be the H&N Sport Baracuda pellets. A full six shot mag yielded this group. From a rested position.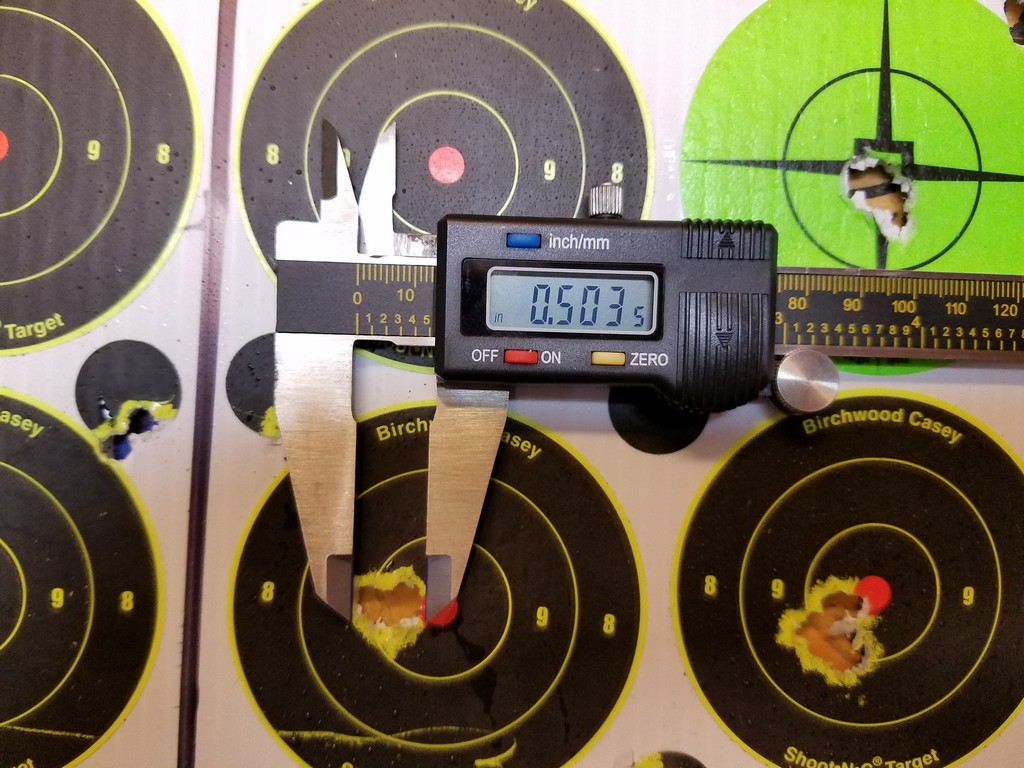 Then six more with the Beeman Crow Magnums. Same shooting position.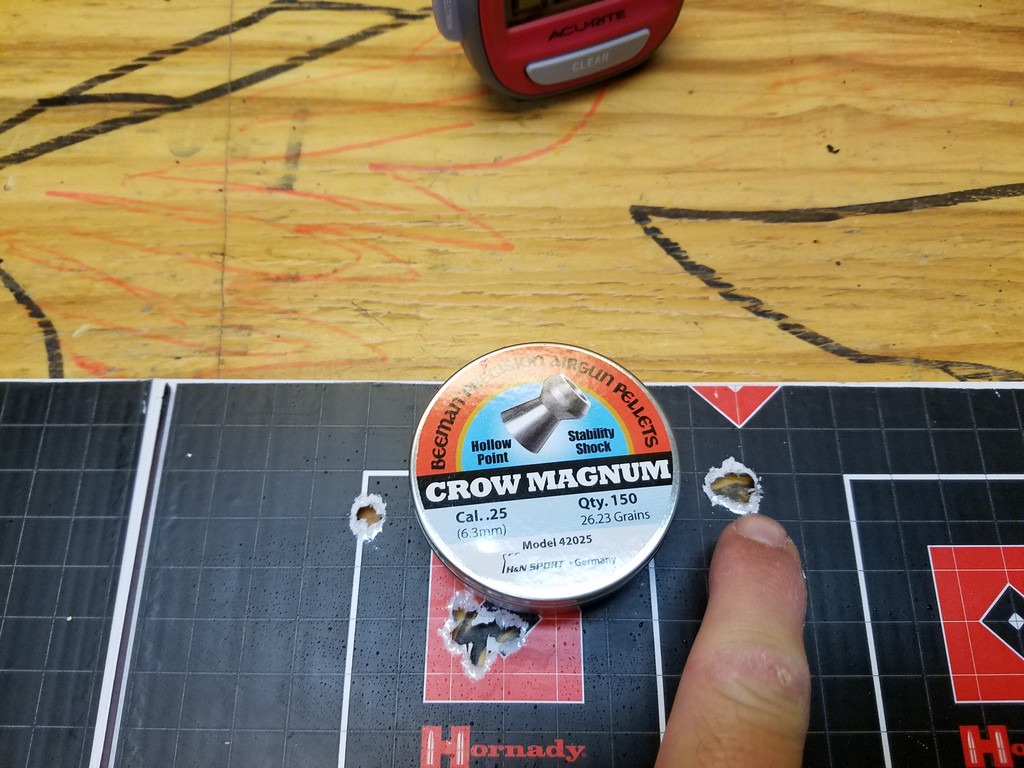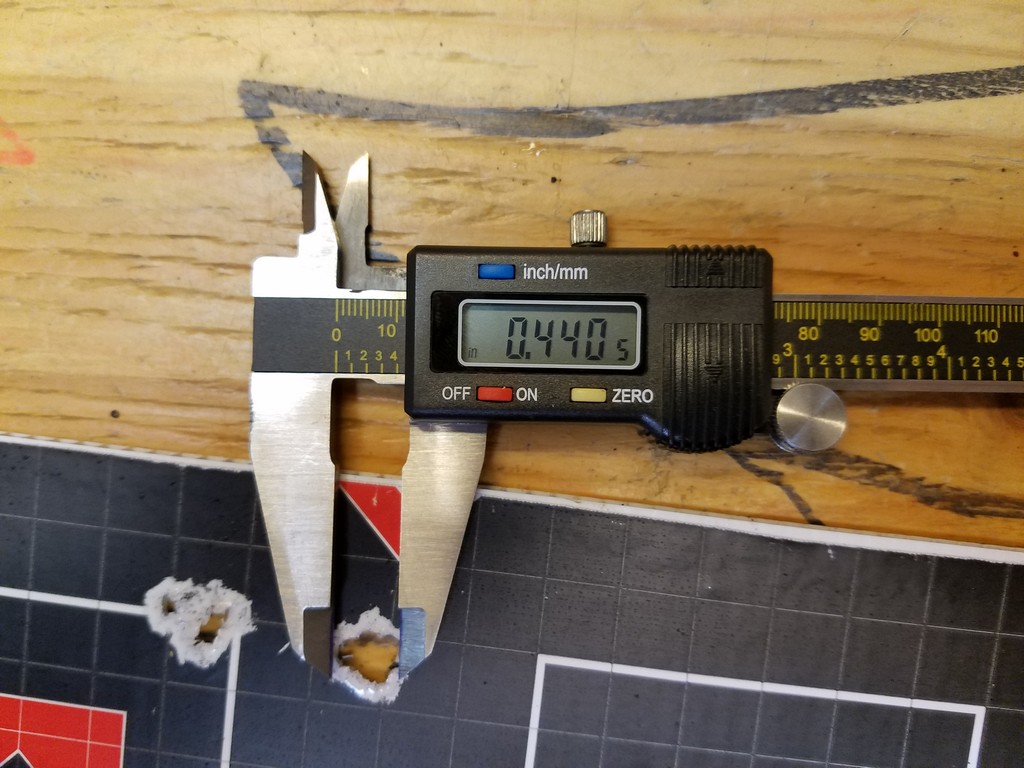 I am confident I can do better. But the weather looked like more rain was on its way (and it did come) so I called it a successful scope change and sight in. By the way it sighted in with just two mags. Was within one inch on elevation and about 1 ½" on windage. Not too bad. I like those kind of sight in sessions versus having to zoom out and find your hit a foot down!
Hope you enjoyed the post. I used to post often and shoot even more. Just now getting back into shooting and well posting threads as well.
As always any thoughts, comments or questions are welcome.
~GOD BLESS~
john
Thanks for the post John. I like reading about people's air gun experience's. What a excellent way to spend time, getting a favorite gun set up and shooting well. Those are good groups! One ragged hole is a great result.
I like having a very powerful scope on my rigs because I almost always shoot off a bench with bags. And it's great to be able to see the crosshairs inside of a pellet hole.
I'm thinking about a Sumatra big bore, the .45 or the .50 caliber, accuracy seems good and what a hard hitting raccoon and skunk gun it would be. Also I could hunt deer with it should that ever be legal in Montana. Thanks again for the great post! And good shooting.  Dave 
Thank you both for your replies. I have had great success with the TAC Vactor scopes. I was curious also about the Sumatra so I traded for one - LOVE IT!
I am glad you enjoyed reading the post. I try to write enough  content to make it interesting and post enough pics to make you "see" what I am talking about. 
Thank you again.
~GOD BLESS~
john