Morphing again! Pics of the latest change to the good ole' Mark1
I have owned this pistol for about 15+ years now. Started life with a 17 ½" barrel and a front/rear sight. Used to poser from CO2 – either carts or a bulk fill set up. Thing always amazes me and always shoots like a laser.
Recently I made some changes by shortening the barrel to 12 ½" and swapping for a full shroud – Big shout out to TKO for creating one amazing piece for me!
Then I added some of Vernon's grips – WOW! Like they were made for my hands.  I thought I was finished.
By the way I don't shoot with open sights anymore as my eyes are not as good as they used to be so I added a BKL triple strap mount and a UTG scope with small side wheel.
So was I happy? Yes. Was I finished with upgrades? Not quite. Look what came in the mail not too long ago: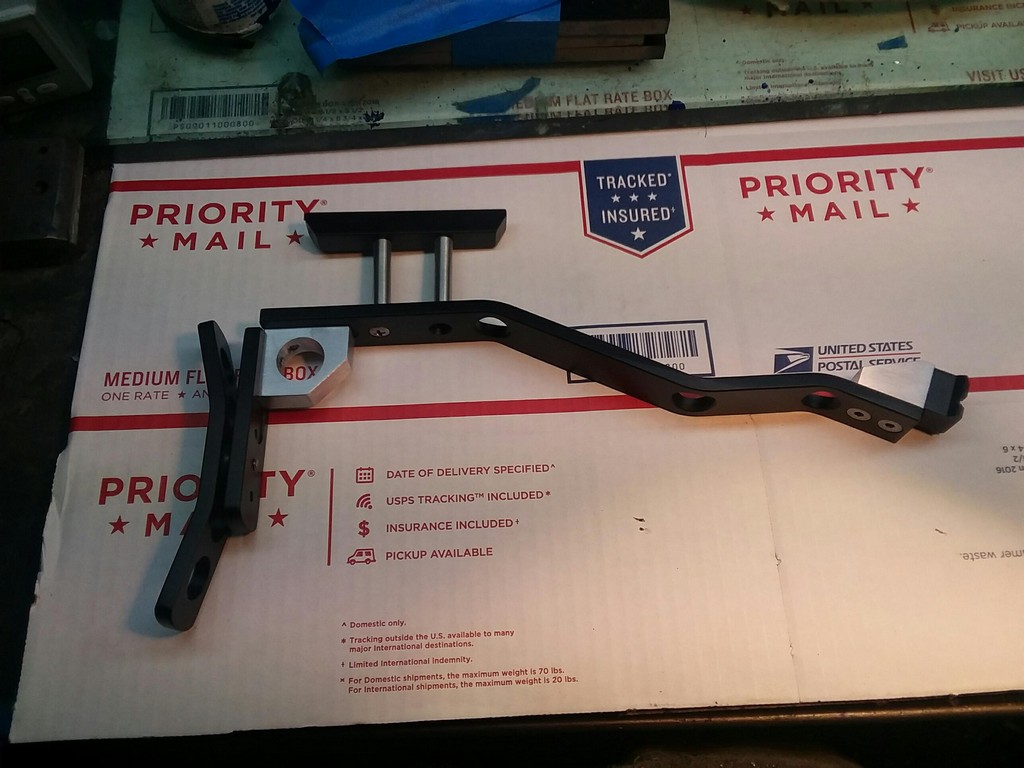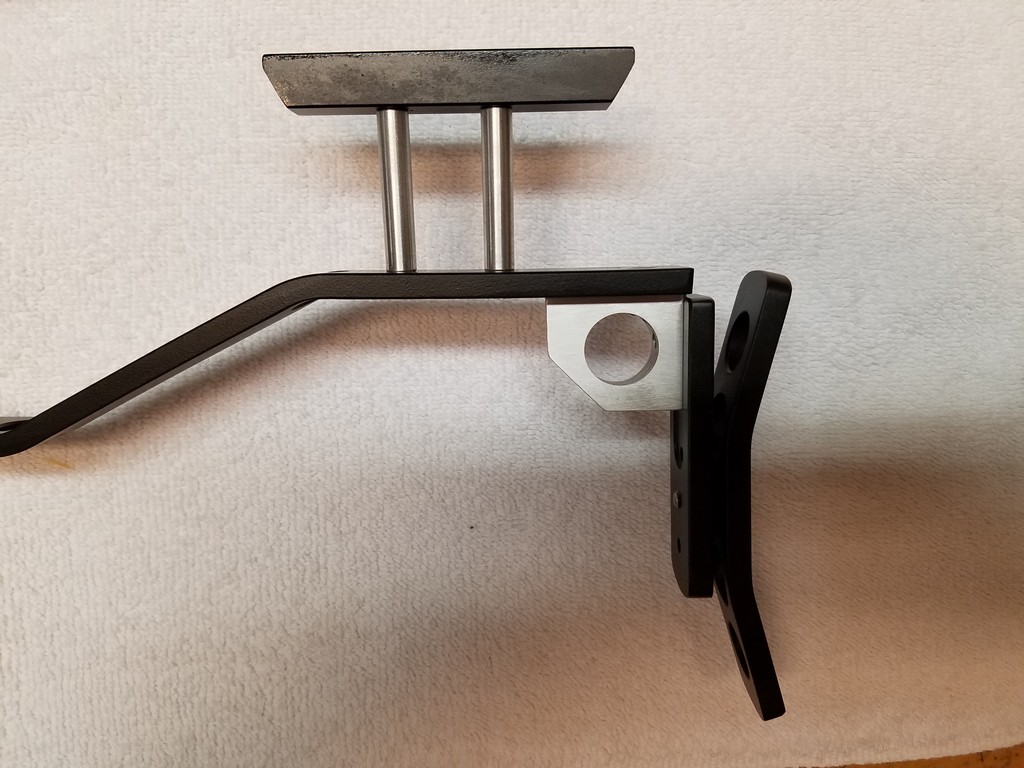 I was very excited to get it mounted up and give her a try. You mount this shoulder stock via a quick detach 1" scope ring with a weaver base. That is if you are using the bulk fill adaptor (Which I am).Check it out: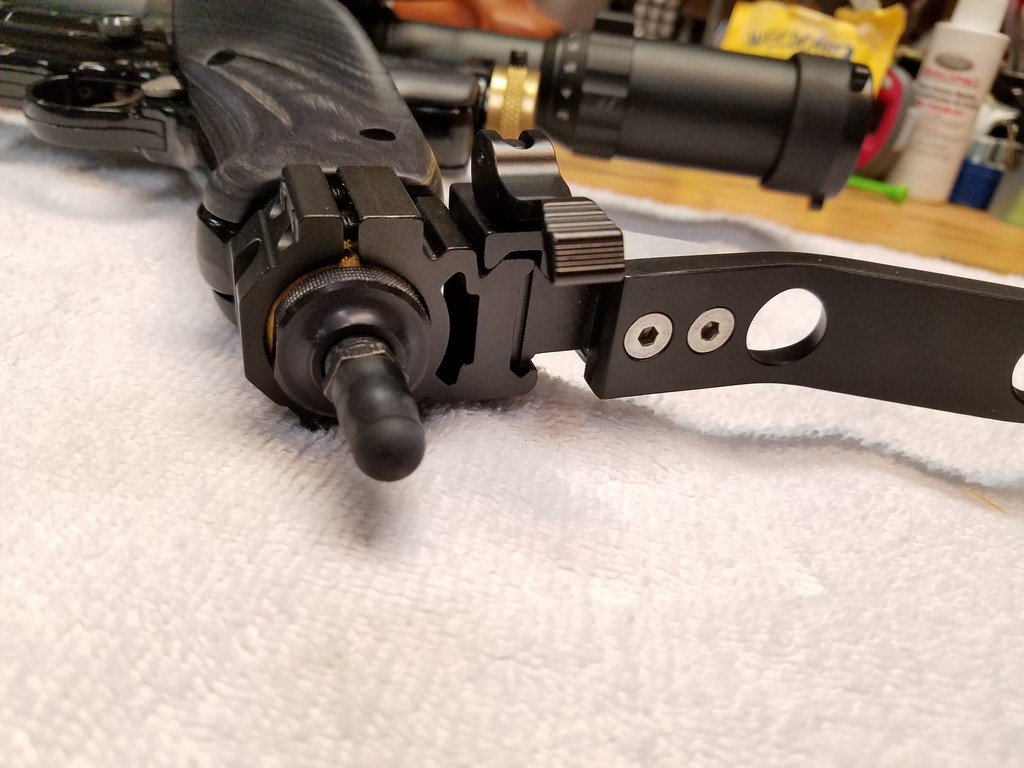 The rubber vacuum seal is to protect the quick detach fill port that I use for my regulated nitrogen set up. A remote line to a choice of either a 12oz or a larger 32oz tank keeps me mobile and shooting all day.
Here she is all laid out and ready for a test drive: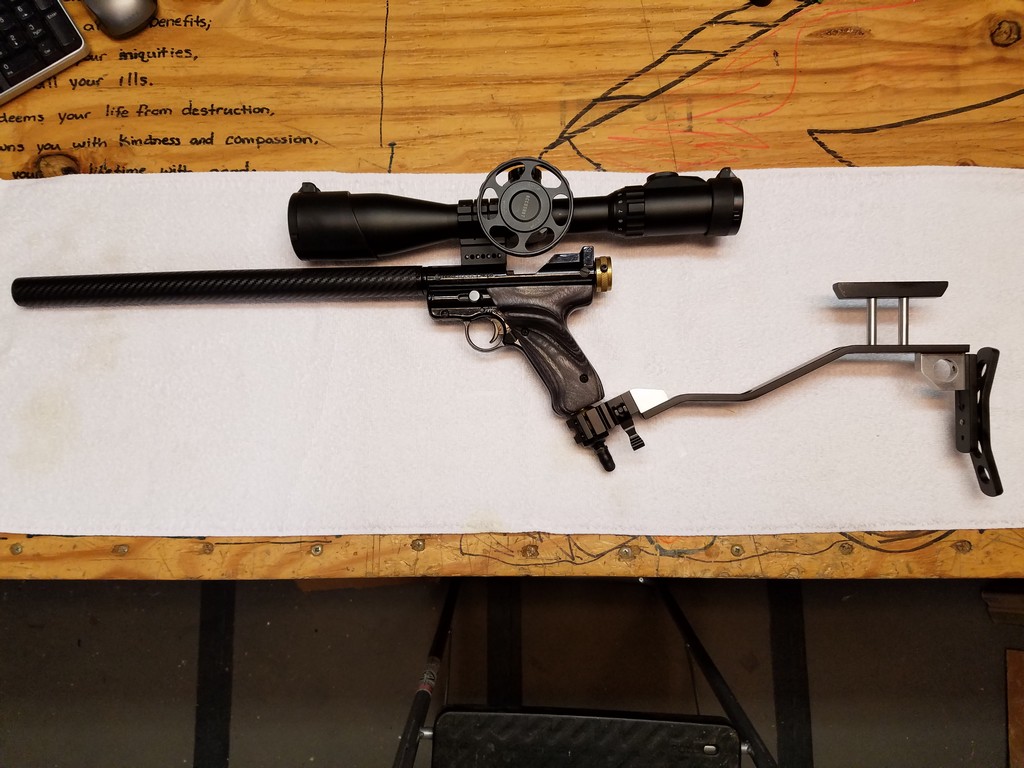 View from the front: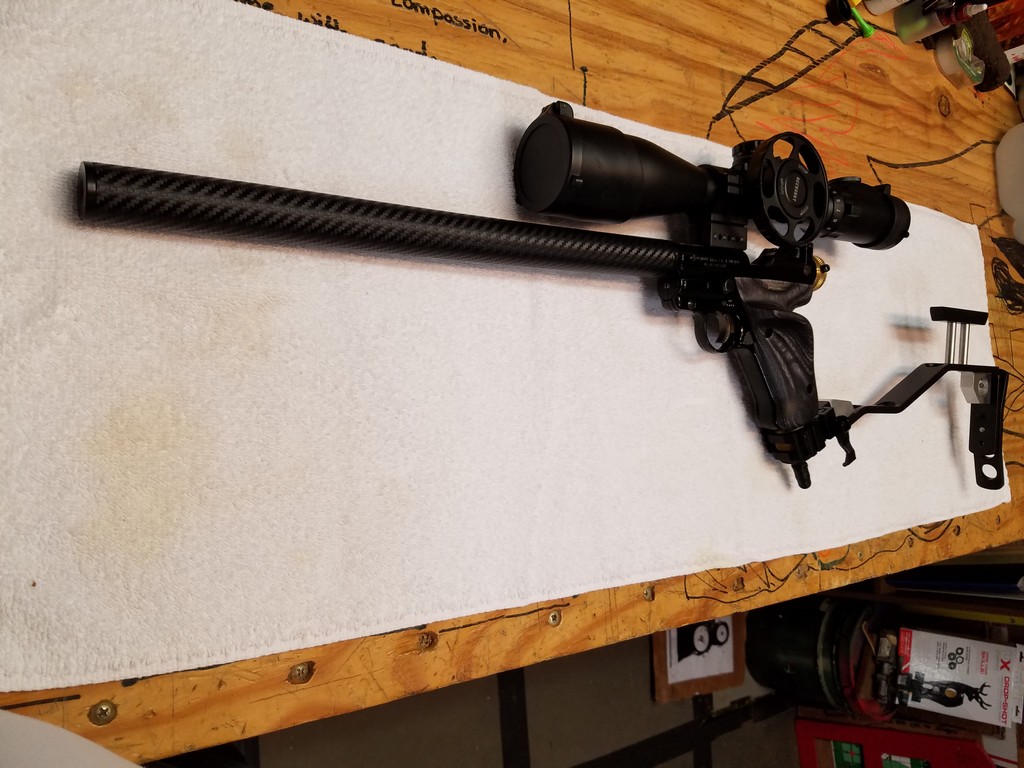 And view from the rear: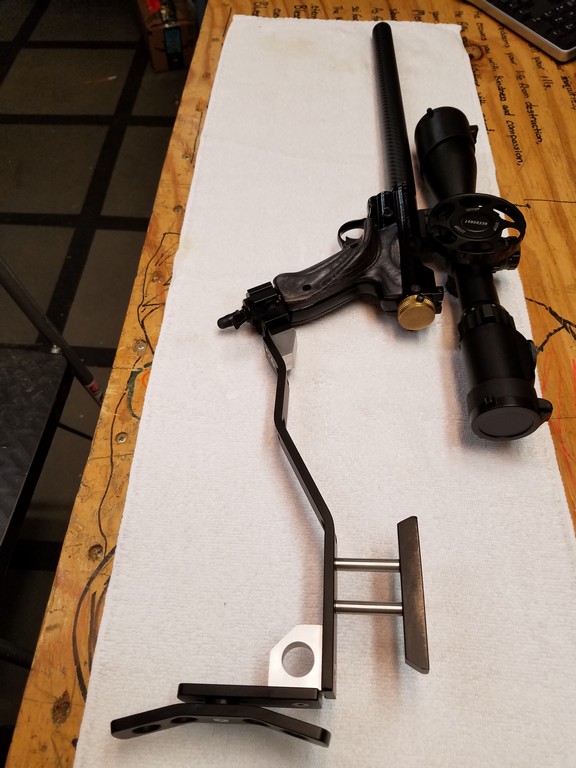 I had the chance to take it out and give it a good test run. I took shots at everything in sight, between the rain showers we had over the holiday weekend, I walked the property and attacked everything from spray paint cans to field targets. Paint balls to hanging bells I in my trees.
I can say it was worth every penny. What a great addition to the ole' pistol. Made a world of difference in taking unsupported shots (I am a sucker for some bench rested shooting). I must admit that I did need several attempts to take out a paint can at 50 yards. Not because the pistol could not perform – more because I was a little shaky from the exercise and the shooting. I told myself "One last shot" and took aim. Steadied myself. Boom! Made it.
Great way to end the day.
~GOD BLESS~
john
The pistol reminds me of something I saw once that I think was called an "LD" (conversion pistol), but I don't know them well enough to say for sure.  Whatever yours is, it's definitely tricked-out to be pretty cool!
I remember the 1960's well enough to recall when CO2 and MSP guns were considered THE shooters to be had in the USA.  If spring piston guns were around then, I sure never saw one.  My, how the times have changed.  I still like your CO2 rig, though.
Safe and Happy Shooting!
Ed, the Airgun TuneMeister