Homemade Pellet Seating & Skirt Tool...
I made this pellet seating & skirt tool from a bamboo chop stick several years ago... I may have used two, I don't remember exactly... they have a nice taper to them and flat at the top, and bamboo is a pretty hard wood.
Handy for those tight spots with the right angles, and for different calibers... easy to make and shape the ends using a pencil sharpener, file, and sandpaper... works well too !
I originally sealed the wood with some wood preservative that I had handy, but yesterday decide to "harden" it a bit with some Super glue after "ekmeister's" post on hardening the wood for stock screws.
Shown next to my old Beeman tool for size comparison... added a Rapala fishing retractor that can be clipped to your pocket or pellet pouch.
Ken H in OH -- Life is One Hole After Another...
Yeah, those work great too... I actually fished out a couple of arrow points out of my archery junk box the other day... filed the points down a bit... they should work great too, especially for shaping the pellet's skirt.
Depending on the airgun, I sometimes like to seat the pellet a bit in the bore, especially if the pellet is very tight... my RWS old Model 45 has a slanted barrel block, and it helps to seat the pellet in it as well.
Ken H in OH -- Life is One Hole After Another...
For the years I did own/shoot an AirForce rifle, found my particular barrel liked pellets to be seated deeper than flush. Tests a lot, figured out where it wanted the best pellets for that barrel to be seated, and made a really simple seating tool from 1/8" brass rod.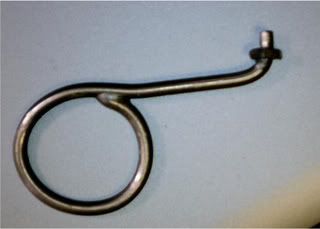 Which you could ear on your finger like a ring (and still be able to use it while worn as a ring) while shooting.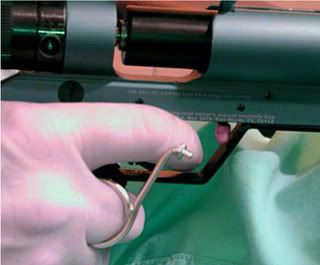 Ribbonstone... great idea with that ring design !
When using it to seat the pellet, did you wear it on the middle finger and use your index finger to press the pellet into the breech ?
You could easily attach it to a neck cord when not using it so you don't lose it.
Ken H in OH -- Life is One Hole After Another...
Picked the pellet up with thumb and fore finger and pushed it into the breechwith my thumb....pointed forefinger along the barrel and used my thumb to flip the ring to "in pointing" and seated with my thumb.
Was a 5mm....not a whole lot of choices in good 5mm pellets, so just trying this-n-that wasn't an option (as there weren't enough of this or that to try). Same rifle with a .22 barrel didn't really need the seater once I found a pellet it liked (so many choices in .22 that odds are I'dfind one that didn't need the seating)..