First Focal Plane. Is it worth the cost? Pics and questions about just that…
Had to do some HVAC work at the ole' casa this past weekend. By the time I was finished I had about 2 ½ hours to get out and shoot something. I set up the shooting bench and went down range and stapled up a target. The wind was blowing and the rain was coming in. Made for an orange glow to the afternoon daylight. I set up anyway! Sure enough I was fortunate to make it 2 hours without it raining.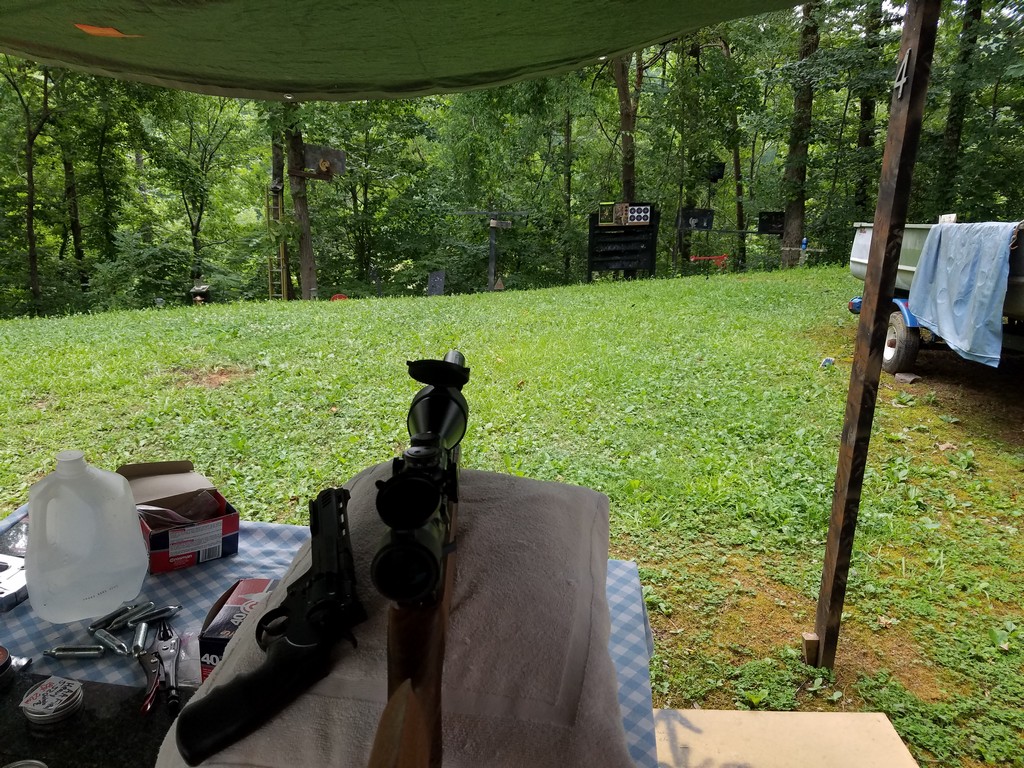 Today I want to speak as an uneducated person about First Focal Plane Scopes. I say it that was as I am not technically knowledgeable to speak to the virtues of a first focal plane over a second focal plane etc.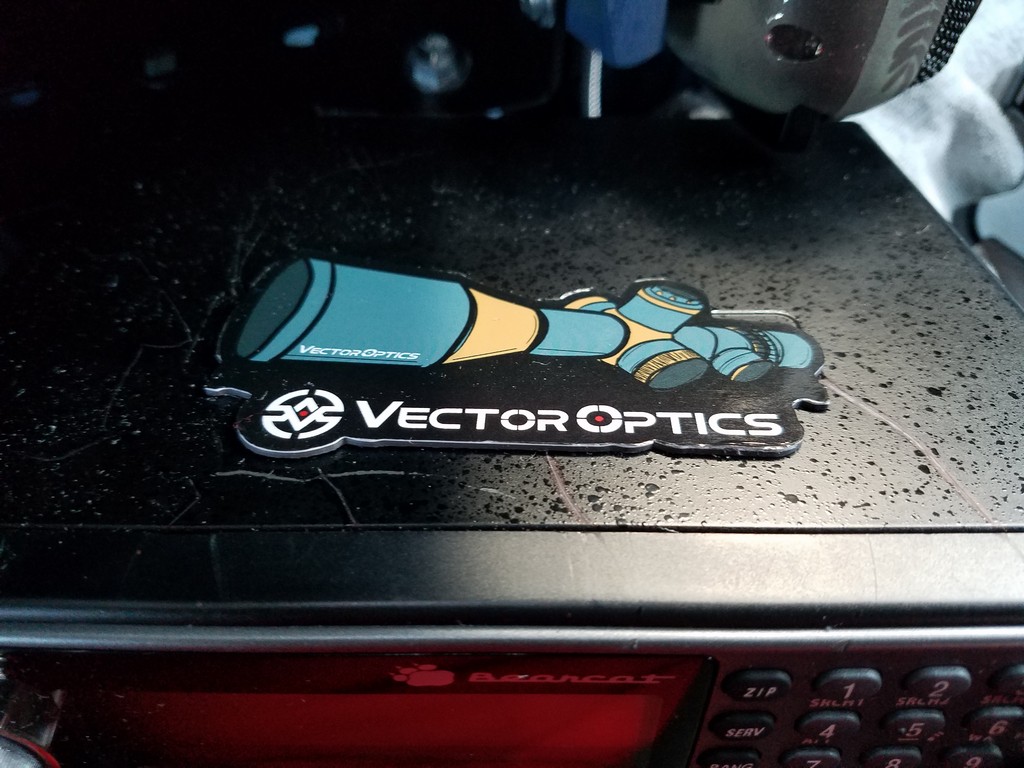 I do understand that the first focal plane scopes reticle size changes with the magnification – as I understand it to give you the same aim point at different magnifications at the same distance. Whereas a second focal plane scope the reticle does not change size and you must make adjustments accordingly at different magnifications.
So let's talk equipment. The rifle is a handsome walnut stocked Air Arms S410-SL in .22 that I shoot with a DONNY from FL ad on. For easy single shot action I use a machined single shot tray. Pellet of choice is the H&N Baracuda Match, .22 Cal (5.52mm), 21.14 Grains, Round Nose. They just roll down that single shot tray and push right into the chamber.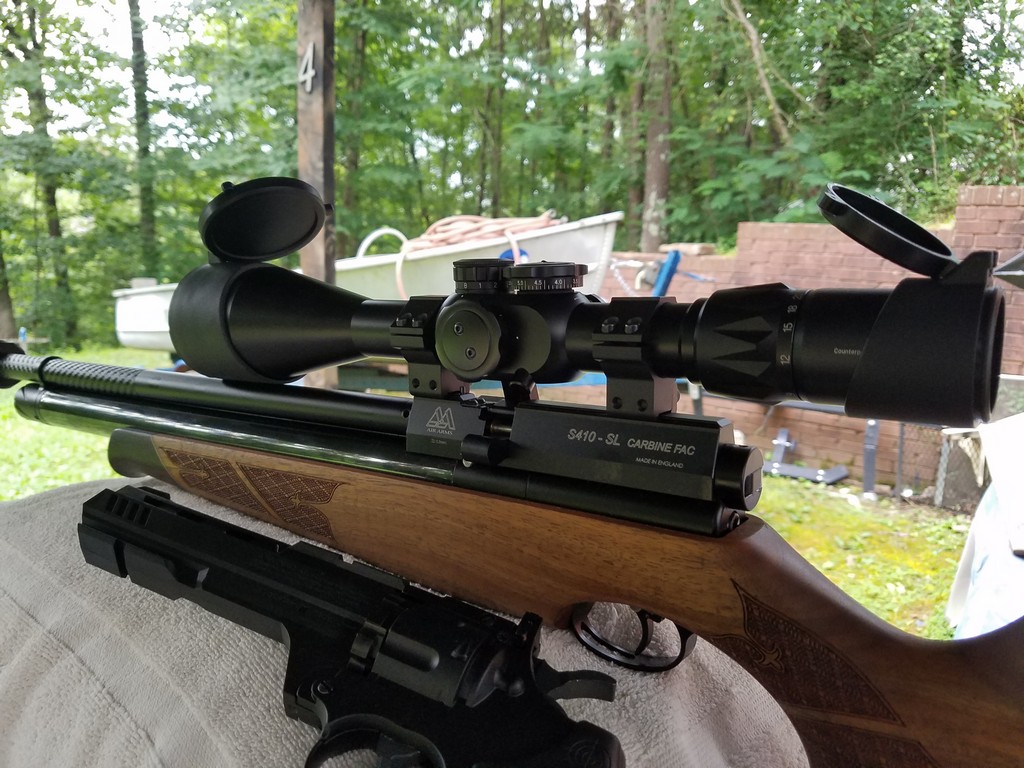 The glass is from TAC Vector. I am not sponsored by them or paid in any way. They just had a well-priced first focal plane scope that I bought back in December of 2017. The model is the TAC Vector Optics Counterpunch 6-25x56 First Focal Plane Rifle Scope Low Profile MP Reticle 30mm.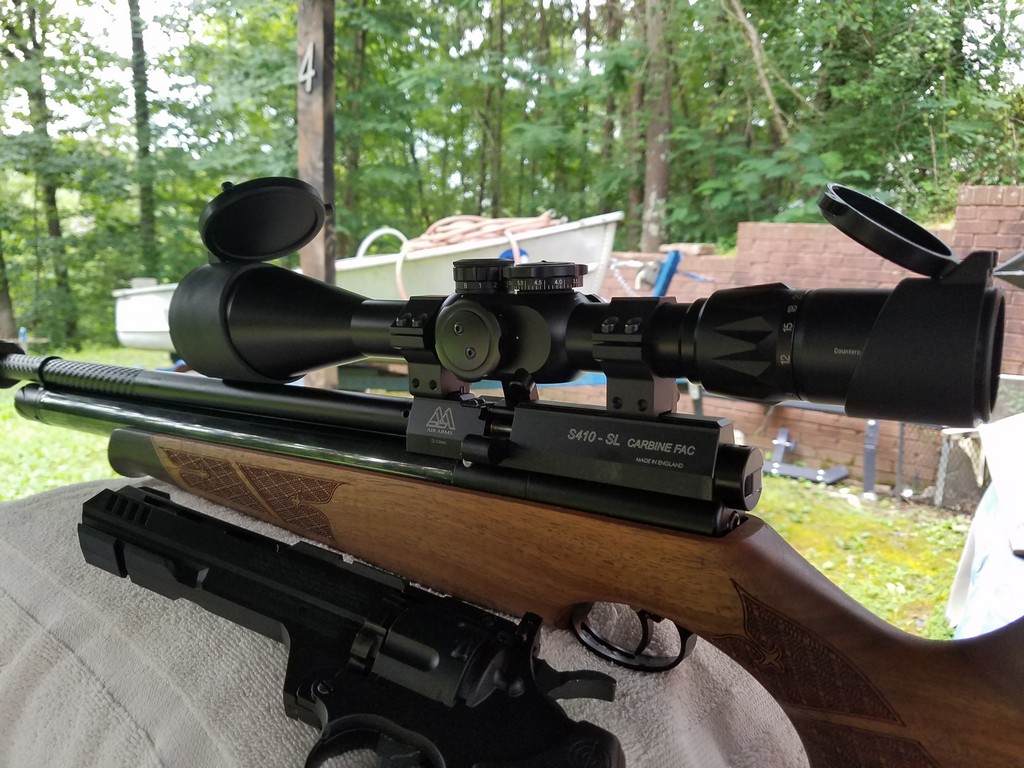 In the two hours of shooting time I mowed down everything from the punching of paper at the backboard (just shy of 30 yards) to paintballs off of golf tees at 12 and 18 yards and had some fun with spray paint cans and some snap bang/Torpedo. DANGER do at OWN RISK. Shot at bells in trees as well.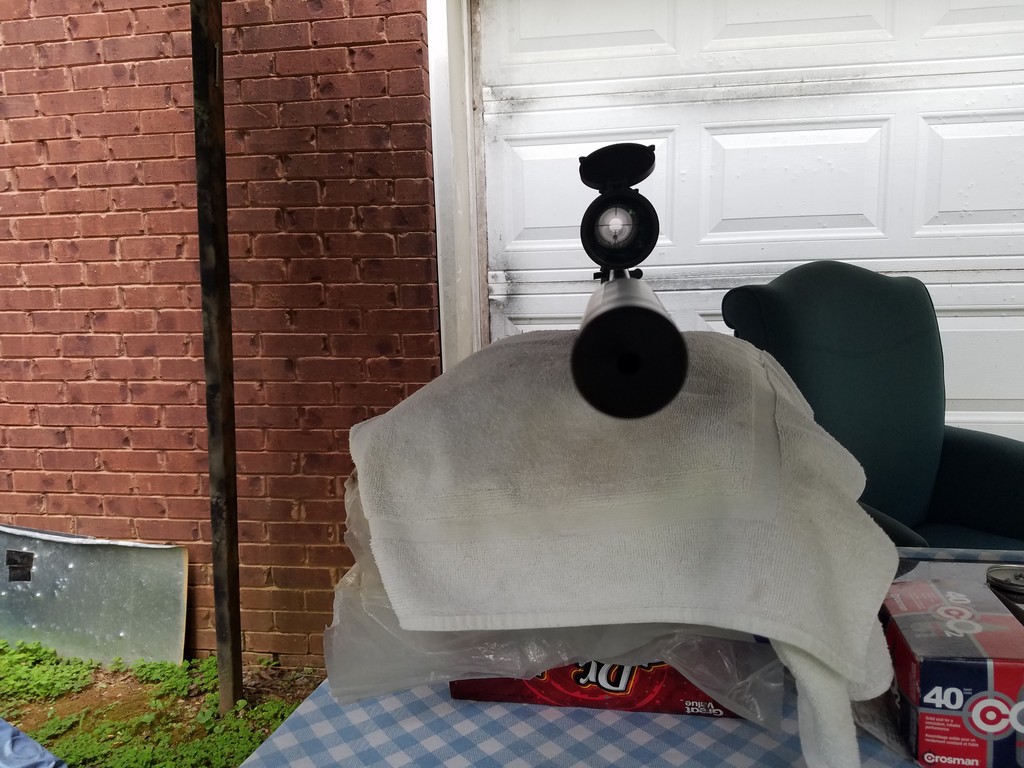 I really like the scope. It has held its zero from day one back in December of 2017. This despite the fact it does not have locking turrets. A feature that I believe you get with the long turrets versus the low profile ones I have. This being said they have not moved on me yet so that is good.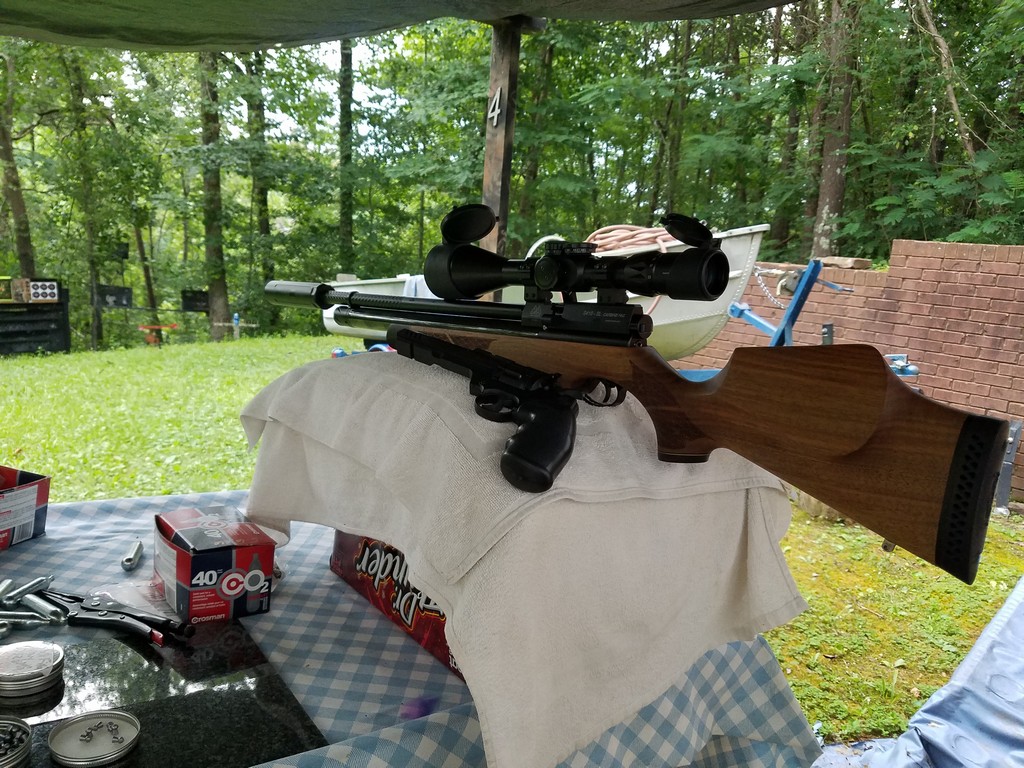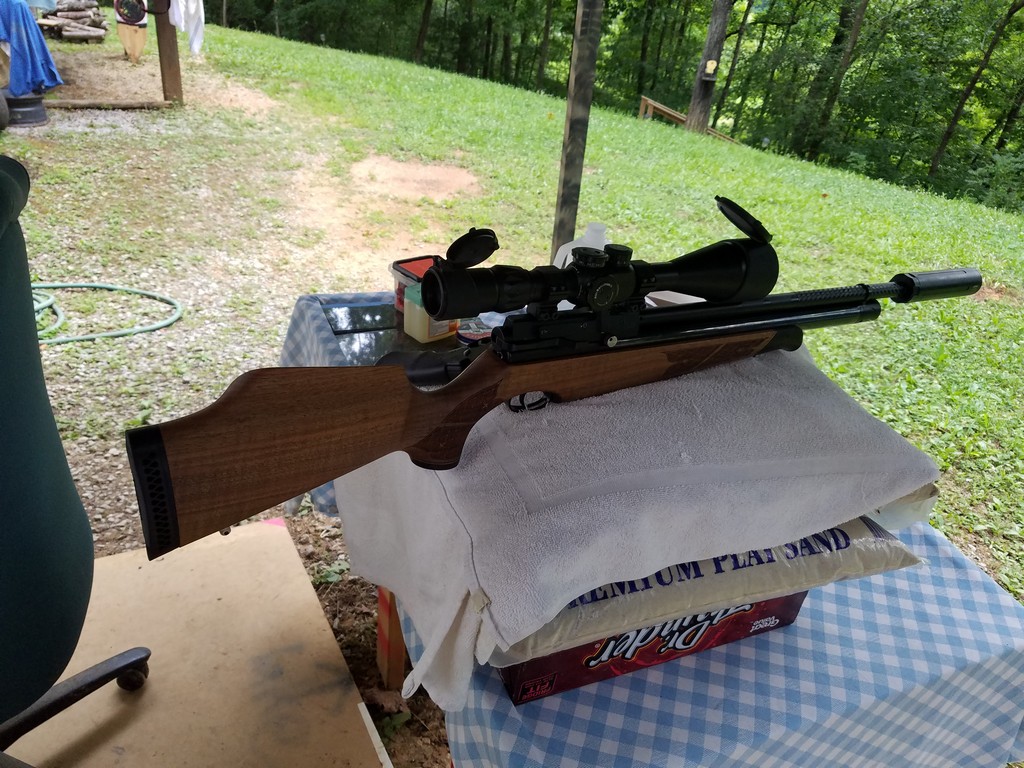 The scope is clear at all magnifications. I find it ranges well for me and my use. I do not use the illuminated feature for the reticle – suppose it is good it is there. Here is my question. I shoot primarily at full power. Which for this scope is 24X. If I am not shooting at lower power do I benefit from a first focal plane scope?
I would appreciate knowing more about what I am shooting with.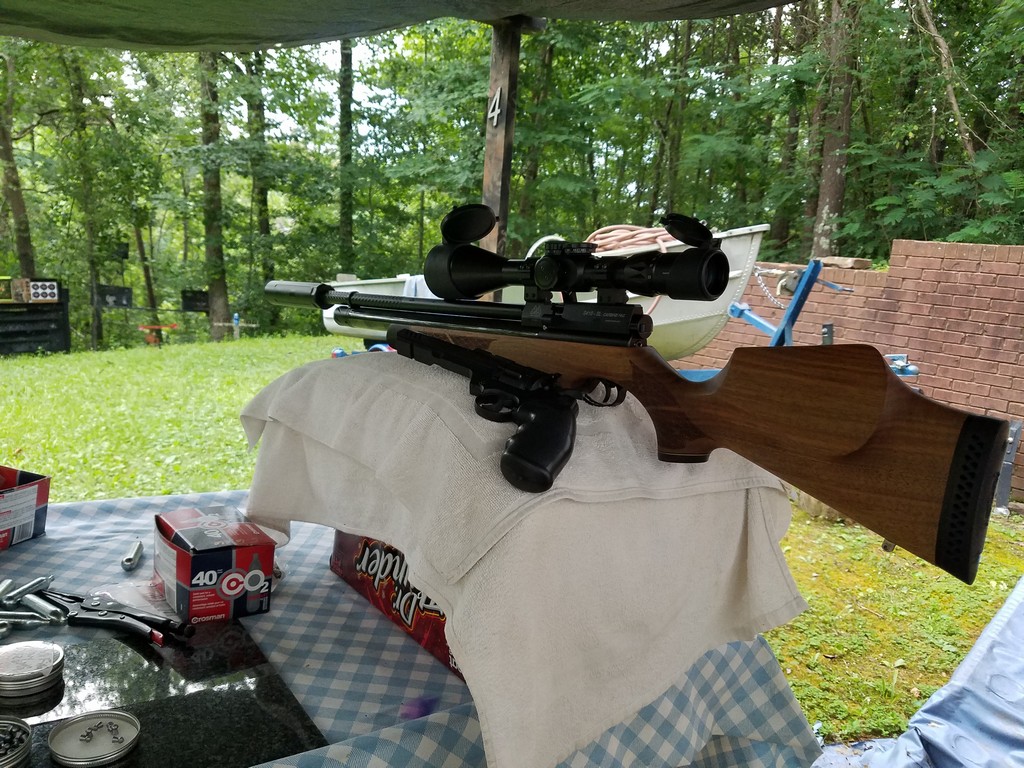 If anyone would care to contribute their thoughts on first focal plane if you shoot it at high power a majority if the time versus a second focal plane scope shooting it at the same power level most of the time also. Is it worth the extra bucks to get a first focal plane scope?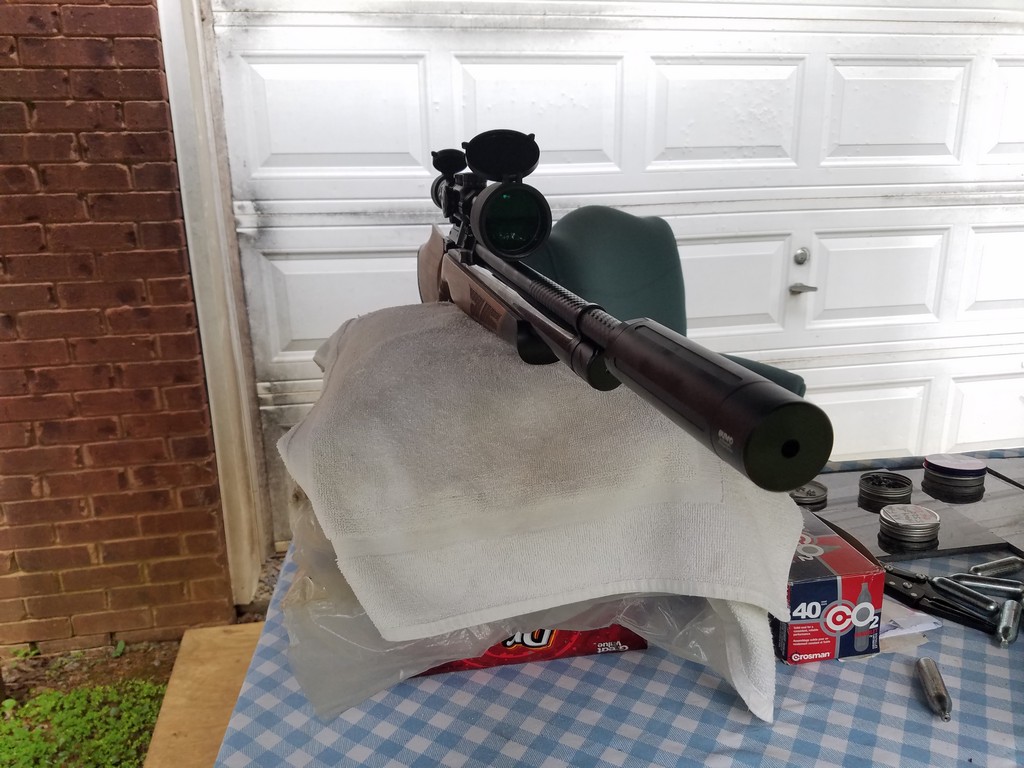 I appreciate the feedback, comments and thoughts.
Hello John;
about three years ago, I wrote an article about the original scope that is now being marketed under the Tac-Vector brand as the "Counterpunch":
https://www.ctcustomairguns.com/hectors-airgun-blog/a-special-scope-designed-for-usa-shooters  
I don't know if Tac Vector is using the original MOA-graduated reticle, or if it has changed, but the scope's optics and mechanism should be the same.
I then wrote a sequel because one of the aspects that were designed into the scope (it was never intended to be a FT scope to be used for rangefinding, on the contrary, the idea was to have a deep depth of field in focus) was an  internal "F" stop that sharpened the image and made the scope be "in focus" at many distances without too much fiddling, the intent is obvious: it is a practical, hunting, scope.
Now, as to your question: If you are not a hunter, there are several features of the scope that are irrelevant to you. The low/internally moving turrets make sense in a gun that is going to be moved through brush.
The MOA reticle, makes sense if you are using the reticle to estimate the distance to the target (bracketing) and you cannot afford the time, nor the movement, to look at a card and read your hold-offs because it is complicated enough to do the maths of the rangefinding, to be bothered with remembering the trajectory at different magnifications.
As I said in the articles, the optics of the little scope, as originally designed and built were very good, the mechanics worthwhile, and if you MOSTLY use the scope at its LOWEST setting, turning the magnification UP ONLY FOR SELECTED shots, then the architecture of the scope makes sense.
The FFP location of the reticle was just a need to fulfill the spec of creating basically an airgun-hunter scope with extended facilities.
On the other hand, if you are mainly a target shooter/plinker, then the FFP may only make sense in winter. When you need to reduce the magnification due to an early loss of daylight and you do not really want to have to create another range card. Apart from that, target shooters are mostly better served with fixed magnification scopes.
HTH
HM
Hector,
 Now that was a good read. I am talking about your post as I will read you article here shortly. I appreciate the background as I was operating off of some misinformation regarding why a FFP scope is beneficial. 
Hunting - seldom with this rifle. While it has the power and the accuracy I usually hunt with two other rifles that I don't mind taking into the woods etc. I admit that this AAS410 leads a sheltered life. Mostly shooting from the bench and sometimes used for hunting, sometimes. 
I do like the optics and the scope fits the rifle well with good eye relief and a repeatable cheek weld. As I stated in the post it has never lost or shifted in its orginal sight in and I can count on it so far in being accurate right out of the case. I need to read your articles to better understand and I will. 
I do appreciate that you took the approach of educating me to the original design for use on airguns and what the benefits are etc. I am 50 years old this summer and I only mention my age because sometimes I get the feeling that I am being treated as though I should not have the equipment if I don't know what it is intended for etc. That is not the case with your post. Thank you. I am always treated well at matches also - just encouraged to take some steps to improve my game - I understand that angle. 
Sounds like the next scope I will purchase (for an upcoming build) will be a SFP. They have served me well thus far. 
I am off to read your articles and the sequel. 
Thank you for your response.
Hello John;

about three years ago, I wrote an article about the original scope that is now being marketed under the Tac-Vector brand as the "Counterpunch":

https://www.ctcustomairguns.com/hectors-airgun-blog/a-special-scope-designed-for-usa-shooters  

I don't know if Tac Vector is using the original MOA-graduated reticle, or if it has changed, but the scope's optics and mechanism should be the same....
I think the MOA configuration also has some appeal to those outside of the USA. Milliradian subtensions are great at 10x. Even at 12x and maybe 16x. But for higher magnification, I think the MOA provides a better scale for subtensions.
I looked at that scope - the TAC Vector 6-25x56 "Counterpunch". The version currently available in the USA now has mil/mil for the reticle/turret. For FFP scopes in that magnification range, I prefer the MOA/MOA that was available on the "Counterpunch" scope that you reviewed. I looked at a few 24X+ FFP scopes before buying the Monstrum 6-24x50 FFP. It appears to be made in the same factory, using many common parts to the TAC Vector FFP scopes. The 6-24x50 Monstrum has the preferred MOA/MOA configuration.
If you want 10yd focus ability, you probably won't find any FFP scopes with magnification greater than these.
My favorite air rifle scope configuration would have these specs: 6-24x50, FFP, MOA/MOA, 10yd focus ability, and locking turrets. There are a few scopes that meet those specs. The Monstrum is one of the lower priced available. It's MOA reticle is serviceable. It could be improved, but I like it better than some of the others that I looked at.
Whether they are a good choice for field target is debatable, but there is no question to it's overall usefulness. I've got them mounted on both my PCP and Piston FT rifles. I've developed a new ranging/shooting strategy for FT (and all of my shooting), based on this scope, to eliminate the need for a dope sheet. The scope focus ranges OK at 24x. It does not snap in/out of focus, but the focus wheel does have about 180 degree of rotation from 10yds to 55yds, and that helps.
John.- thanks for your kind words.
When purchasing a SFP scope, probably the most important thing to check is that the POI doesn't change with magnification. If it does, the scope should be sent back for repair/exchange.
Scott.- I agree with you that MOA can be more useful than mrad when all you have is full units in your reticle.
But when you have 1/4 mrads, then you are slightly better off than having MOA's.
A good example would be the old AEON scopes with the DU-LINE reticle. Or the older Horus Vision scopes.
With the 1/4 mrad reticles you would have the resolution needed for accurate shot placement as well as the fineness of divisions to not guess the range.
Anyway thanks for reading, keep well and shoot straight.
HM
Hector,
Yes, the fractional milliradian reticles are good for holdover in higher magnification scopes. For the the mid range magnifications (24x), the MOA/MOA is ideal and has the added benefit of having holdover numbers that exactly matches my turret numbers. I'm going for 1/4 MOA holdover resolution on the 1 MOA stadia, and that exactly matches each click (should one choose to "click"). It is easier system to visualize than the 1/10 mil resolution on a full mi-dot scope.
New ranging/shooting strategy:
no dope sheet
primary focus range
confirmation bracket range
focus-range, bracket, holdover - All available at the eyepiece. No need to break position once lined up on the target.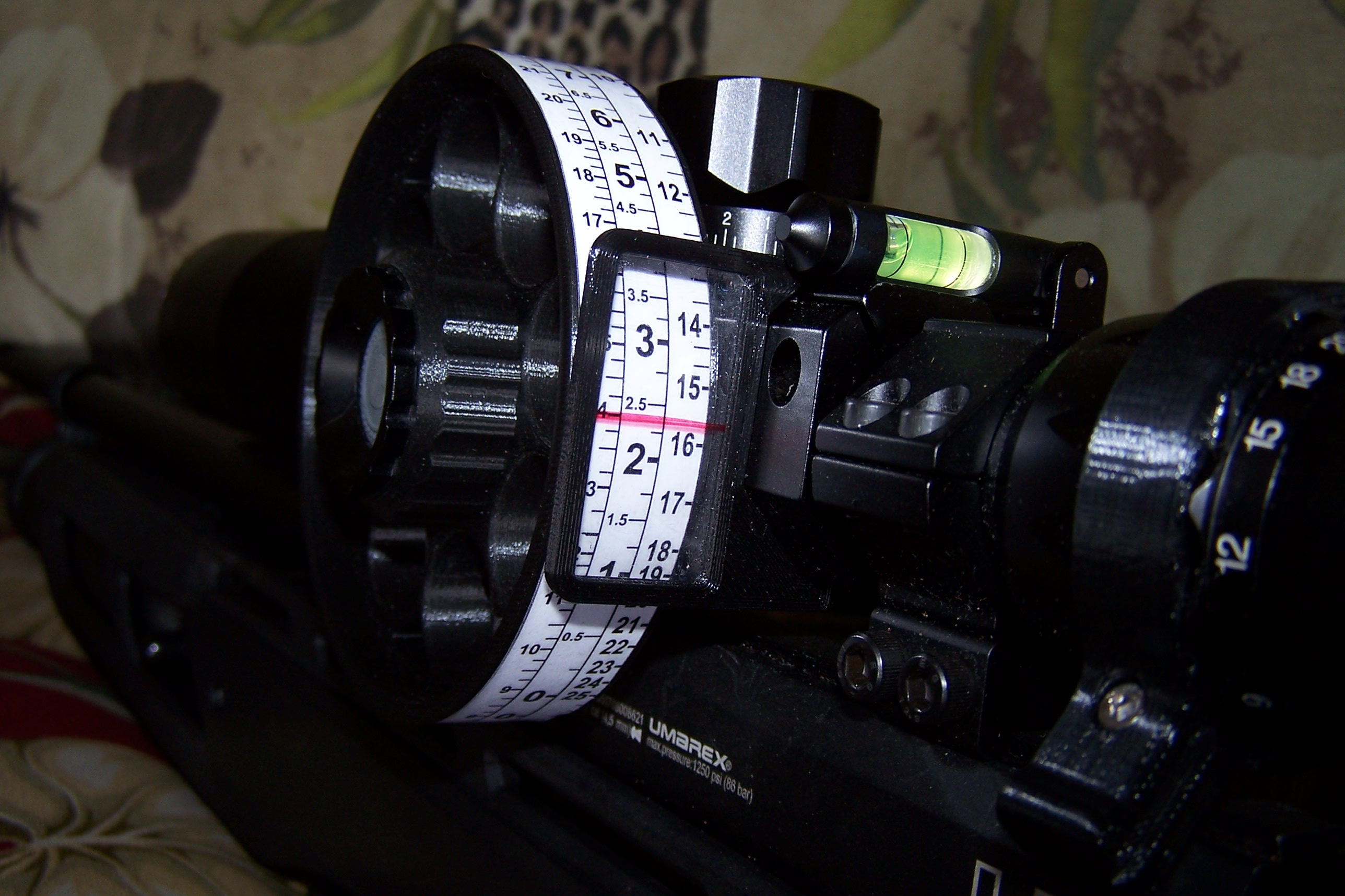 Very interesting, Scott!

How do you ensure that the tape's numbers (and the tape itself) are waterproof?

 

Keep well and shoot straight!

 
I laminated front and back with clear packing tape, and then cut it out leaving a very small perimeter of tape that I hope will seal the edges as well.  Yet to see how it holds up in the rain.