CO2 gun
What is the hardest hitting CO2 gun?   My Hammerli 850 on CO2 bulk tank is just not doing the job?  Thinking about air force ??
I have a 20 FPE QB22, the predecessor of the QB78.  It is one of the original guns Tim M. imported.  He then hand built these rifles and tweaked them to be the best they could be.  Tim sent these guns out to gun writers and other influential airgunners to show what a QB could be.  At some point later, this rifle's barrel was swapped out for a Theoben shrouded long match rifle.   Tim said that mine was the only one he did with a full length match barrel.  It was just too long.  My brother calls it my "goose gun" due to it's length which includes about 25 inches of barrel plus about another 6 of shroud.
David Enoch
HAd a really crude Philippine co2 .30 that managed to get 32 foot pounds on a warm day....that's not real fast for 44 grains of lead, but certainly worked well on the things that got hit.
Tried one of the AirForce adaptors (below with a 9oz tank)...warm weather speeds were not too bad,but I Mostly played with 5mm or .177 barrels. Likely could get to 18-20 foot pounds in .22 .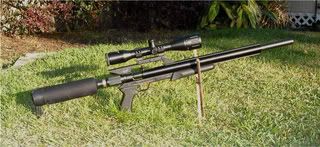 Think the keys here would be warm temps, larger bores,and heavier pellets.You give up speed, but generally end up with more energy.
(Wondering if any of our airgun brothers in the frozen areas of the country have tired putting their charged co2 rifle out in the sub-zero weather for for like 15min.)
Placing a CO2 gun out in the cold will cause a drastic drop in velocity and you will see a lot of condensed (white gas) discharged from the end of the barrel. The pressure of the c02 is directly related to the temperature of the vessel it is contained in. The temperature of the action and barrel can also effect the velocity. 
Just never gets that cold here, so I was just wondering...certainly 30F weather plays really bad games with co2, have no clue how bad it would get at -30F (also figure you'd stiffen up the seals quite a bit).
I do like co2, have quite a few of them, but they have been put away for the winter.  I'll bring them out come the deep south's  spring warm weather.